INTERNATIONAL NEWS
1.  Biden Says He Believes Putin Has Decided to Invade Ukraine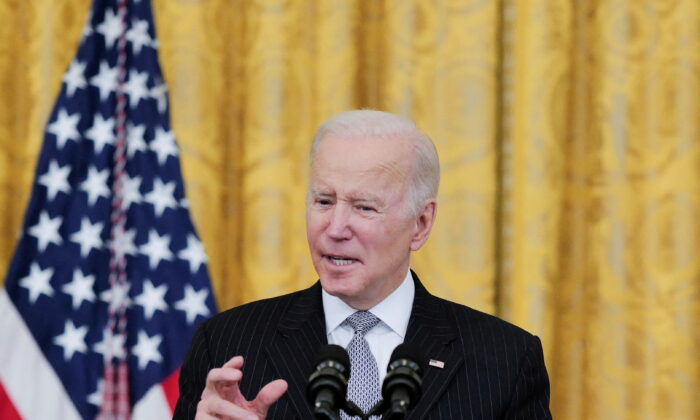 Biden also said officials believe that "as of this moment I'm convinced [Putin]'s made the decision" to invade Ukraine. The United States, he added, will not send troops to Ukraine to fight.
https://www.theepochtimes.com/biden-says-he-believes-putin-has-decided-to-invade-ukraine_4287973.html
2.  'Russia isn't crazy enough for war' – Czech president slams US reports of imminent invasion
Russians are not crazy enough to embark on an operation that will do them more harm than good, claims Zeman
President Miloš Zeman does not expect Russia to start an armed attack on Ukraine, describing the information as another embarrassment of the American intelligence services in an interview with Mladá fronta DNES newspaper.
Zeman reiterated that the war would do more harm to the Russians in the form of sanctions than the benefit of sending a military warning to Kyiv and according to him, Moscow will not risk that.
He refused however to rule out that the situation could result in a local conflict on the borders of the self-proclaimed republics in the Donetsk and Luhansk regions of eastern Ukraine, declared by pro-Russian separatists.
U.S. officials have recently warned that the attack could come at virtually any time as Allies in Europe received information from the United States that the Russian invasion was due to begin on Feb. 16, a suggestion that was slapped down by Russia's ambassador to the EU, Vladimir Chizhov, who quipped: "Wars in Europe rarely start on a Wednesday."
"Russians are not crazy about embarking on an operation that will do them any more harm than good," the Czech president told media.
'Russia isn't crazy enough for war' – Czech president slams US reports of imminent invasion
3.  LIVE: U.S., Polish Defense Leaders Hold Briefing
https://www.theepochtimes.com/live-u-s-polish-defense-leaders-hold-briefing_4279101.html?utm_source=pushengage
4.  Biden administration clears 6 billion Abrams tank sale for Poland amid Ukraine situation.
Members of Congress in late January began pushing to expedite the deal.
The US State Department has cleared Poland to buy 250 M1A2 Abrams SEPv3 tanks and other military equipment, estimated at almost $6 billion, as the US and its allies rush to reinforce NATO's eastern flank amid Russian aggression toward Ukraine.
The sale of tanks to Poland has been pending since last summer, but the State Department came under congressional pressure to move the potential agreement forward late last month, as the Ukraine situation continued to deteriorate. A US official said Friday morning that Russia may have as many as 190,000 troops on the Ukrainian border, with President Joe Biden saying on Thursday that war could happen in a matter of "days."
https://breakingdefense.com/2022/02/biden-admin-clears-6-billion-abrams-tank-sale-for-poland-amid-ukraine-situation/
5.  Ukrainian president urges West to disclose possible sanctions on Russia
President Zelensky also seeks clear timeframe for Kyiv's entry into NATO, a prospect Russia firmly opposes
Ukraine's president on Saturday called on the West to make public its prospective sanctions on Russia as a way to deter possible invasion as well as to announce a "clear" timeframe for his country's NATO membership.
Speaking at the Munich Security Conference in Germany, Volodymyr Zelensky said it would be a "powerful step" to make a list of sanctions public, letting Moscow know of the consequences should it dare to step into an armed conflict with his country.
https://www.aa.com.tr/en/europe/ukrainian-president-urges-west-to-disclose-possible-sanctions-on-russia/2507442
6.  How do you join NATO and how close is Ukraine to becoming a member?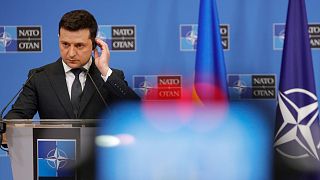 Russian President Vladimir Putin has demanded that NATO not expand to Ukraine or any former Soviet states over, expressing concern over the extension of a military and political alliance founded to counter the former Soviet Union.
Some claim this issue is at the heart of why 150,000 Russian troops are massed near the Ukrainian border, sparking warnings of an imminent invasion. Moscow denies this.
But how does a country join NATO and how far away is Ukraine from becoming a member?
https://www.euronews.com/my-europe/2022/02/18/how-do-you-join-nato-and-how-close-is-ukraine-to-becoming-a-member
7.  The US is not Ready for a Peer to Peer Fight in Europe
by Keith Nightingale – a retired Army Colonel
As we all have, I have been watching the impressive Russian ground forces arrayed to invade Ukraine from three sides. Some comments after consultation with a good friend in the Marines:
Upon due consideration, it might have been unthoughtfully wise to not place our military in harm's way simply because it would have its clock handed to it. Our military, particularly the Army, is tailored for the 20-year war in the Sandboxes-not a Peer conflict.
Of equal import is that all the doctrine, tactics and professional skills are on the Sandbox model. None of our uniforms have had any experience in fighting Peer-Peer.  We went into Korea and Vietnam with a goodly amount of leaders in both officer and NCO ranks who had such experience and could both adapt and train to the threat level required. That no longer exists.
https://smallwarsjournal.com/index.php/jrnl/art/us-not-ready-peer-peer-fight-europe
8.  Justin Trudeau left increasingly isolated as much of world looks to move past COVID restrictions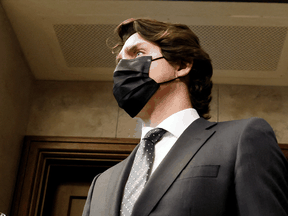 Trudeau has doubled down on federal vaccine mandates and this week invoked emergency powers to seek an end to weeks of protests against his government's restrictions
Prime Minister Justin Trudeau's support of vaccine mandates in fighting COVID-19 helped him win re-election five months ago, but now he looks increasingly isolated as restrictions are being lifted around the world.
Denmark, the Netherlands, Ireland, Sweden, Norway, Israel, Britain and Spain and most of the United States are easing or lifting COVID restrictions, and most of Canada's provincial governments are rolling them back, too.
https://nationalpost.com/news/politics/justin-trudeau-left-increasingly-isolated-as-much-of-world-looks-to-move-past-covid-restrictions
9.  Trudeau's Invocation of Emergencies Act Could Have Long-Term Consequences for Canadians: Legal Experts
A group of legal experts say the invocation of the Emergencies Act by Prime Minister Justin Trudeau could have serious consequences for Canadians, not just presently but for generations to come.
"If this invocation of the Emergencies Act is valid, then governments have the power to declare emergencies and crush any peaceful protest, any dissent, that threatens their political fortunes and ideology, and that's not the kind of country we want to live in," Bruce Pardy, law professor and executive director of Rights Probe, said at a press conference on Feb. 17.
On Feb. 14, Trudeau became the first prime minister to invoke the Emergencies Act, using it as a means to quash the protests against COVID-19 mandates and restrictions by truckers and their supporters.
While the act came into effect as soon as the government presented it, the motion must be approved by both the House of Commons and Senate within seven days. If the motion receives majority votes, the act will be in effect for 30 days. If the motion is defeated, the act will be rescinded immediately. Voting on the motion will happen on Feb. 21.
https://www.theepochtimes.com/trudeaus-emergencies-act-poses-serious-consequences-to-canadians-legal-experts_4288001.html
SOCIAL & POLITICAL IDEOLOGY
10.  Worshiping Authority Leads to Tyranny: Five Lessons from North Korea
[…]
Aleksandr Solzhenitsyn, in his introduction to the abridged edition of the Gulag Archipelago cautions, "There always is this fallacious belief: 'It would not be the same here; Here such things are impossible.' Alas, all the evil of the twentieth century is possible everywhere on earth."
Most North Koreans are reduced to mere survival, but Suki Kim's book Without You, There is No Us offers a unique view into the mindset of the elite class. In the Covid era, Kim provides an instructive North Korean cautionary tale for those seeking to understand the mindset that fuels tyranny.
Worshiping Authority Leads to Tyranny: Five Lessons from North Korea
11.  Shaping the Perfect Subjects
[…]
That's Not Happening and It's Good That It Is
Calls for the political, cultural, and physical marginalization, replacement, and even death of white people have become mainstream in the United States and elsewhere in the West. But when advocates of the Great Replacement are confronted with criticism, they retreat to the motte, cloaking their real positions behind the rhetorical walls of "diversity and inclusion" language, which, they insist, is merely metaphorical and harmless. In what Michael Anton has coined the "celebration parallax," radicals alternatively insist to their critics that they do not aspire to the extreme goals they are accused of, then strategically advance and celebrate those goals among their champions, who deploy innocuous lines about "equity" and "diversity" when challenged. This pattern is displayed by or receives the support of corporate, political, media, and academic elites.
In an article called "When Is It OK to Kill Whites?" Tommy Curry, a black associate professor specializing in critical race theory at Texas A&M University, declared that "in order to be equal, in order to be liberated, some white people might have to die." That conclusion follows logically from Curry's diagnosis of the white race's condition. In a YouTube interview, he said that history shows whites are irreparably bigoted, and therefore attempting to reason with them is futile. But when these anti-white remarks were reported in The American Conservative, Curry complained that it was all taken out of context and that "white supremacists" had consequently threatened his life. He said that criticism of his statements about killing and marginalizing incurably malicious whites only "demonstrates the very real danger of anti-Black racism for Black people in universities." Curry's department colleagues wrote an op-ed defending his assigned role "to teach and research in critical race theory, an area where he is an acknowledged expert," calling on Texas A&M to unequivocally defend him.
[…]
All this is to say that the degree to which the governing bodies of the United States and other Western countries are actively involved in vilifying and replacing the very people who constitute their core demographic is unprecedented in human history.