1.  Nuclear War with China or Russia "A Very Real Possibility", U.S. Admiral Warns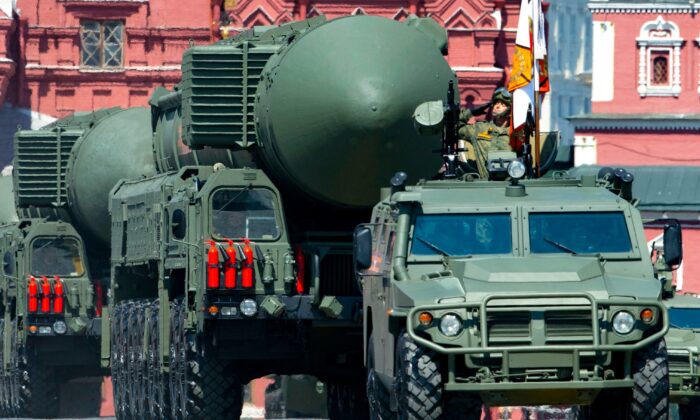 The United States must be ready for a nuclear war with Russia and China while seeking methods to curb their use of strategic weapons, said the commander of the U.S. Strategic Command—the department that manages the U.S. integrated missile defense and other systems.
Adm. Charles Richard wrote that there is a "real possibility" for a regional crisis with China or Russia that "could escalate quickly to a conflict involving nuclear weapons, if they perceived a conventional loss would threaten the regime or state.
"Consequently, the U.S. military must shift its principal assumption from 'nuclear employment is not possible' to 'nuclear employment is a very real possibility,' and act to meet and deter that reality," he wrote for the U.S. Naval Institute's February journal. "We cannot approach nuclear deterrence the same way. It must be tailored and evolved for the dynamic environment we face."
2.  Atlantic Council: The Longer Telegram: Toward a new American China strategy
[…]
Sixth, the United States must rebalance its relationship with Russia whether it likes it or not. Effectively reinforcing US alliances is critical. Dividing Russia from China in the future is equally so. Allowing Russia to drift fully into China's strategic embrace over the last decade will go down as the single greatest geostrategic error of successive US administrations. That is not to argue for any singular virtue on the part of Russian leader Vladimir Putin. It is simply to argue that it has been clear for the better part of two decades that China, not Russia, is the United States' central strategic challenge for the century ahead. While modern Russia is a strategic irritant to US interests, it is no longer by itself a great strategic threat. However, the importance of Russia for future US strategy can be seen in the extraordinary level of strategic condominium that has now been achieved between Putin and Xi over a relatively short period of time and the significant additional strategic leverage this has provided China. Their bilateral collaboration now covers their militaries; intelligence and domestic-security services; energy, trade, and investment; and foreign-policy coordination including in the UN Security Council and other forms of multilateral coordination. Most importantly, this alignment has meant that China no longer has to be concerned with the long northern border it shares with its Russian neighbor, a country with which it has had an adversarial relationship for most of the last four hundred years. The normalization of Sino-Russian relations has freed up significant Chinese military, diplomatic, and leadership capital that Beijing now has been able to deploy elsewhere. This is gravely injurious to US global interests.
However, Moscow and Beijing still have significant, persistent areas of tension. They arise from Russian concerns over long-term Chinese revanchism concerning the vast areas of China's territory ceded to Moscow over the centuries, including Manchuria; long-standing Russian concerns produced by its small and declining population in the Russian Far East, compared with the vast Chinese population lying to its south, which are reinforced by Russian populist anxiety over the levels of Chinese official and unofficial migration; China's growing economic and strategic presence in the Central Asian republics, traditionally a Russian sphere of influence; Beijing's aggressive pursuit of its interests in the Arctic, another Russian sphere of influence, as a self-proclaimed "near-Arctic" state; and the political reaction in Russia to the denuding of Russian forests and other illegal extractive resource industries in Russia's far-eastern border regions in order to meet Chinese demand, often facilitated by corruption and funded by illicit Chinese money.
For all these reasons, the United States must begin to engineer a significant rebalancing of its own relationship with Moscow. Russia will not become the United States' friend or strategic partner, let alone its ally. Much ground has already been lost since US and Western sanctions were first imposed against Moscow after the Russian invasion of Crimea and Donetsk in 2014. Russia is therefore likely to exploit any reset of its relationship with Washington to increase its own leverage with both Beijing and Washington. Moscow fundamentally resents its increasingly unequal relationship with both countries. Nonetheless, it is in the United States' enduring interest to prevent further deepening of the Moscow-Beijing entente to the point that it becomes an alliance in all but name. To do so, the United States should make a business of exposing to Russian public opinion the great extent to which China is now running roughshod over Russian economic interests, political sensibilities, and national pride. The United States also must be prepared to make some concessions to Moscow. It might do so to secure Russian support in bringing China to the negotiating table over the expansion and modernization of Beijing's strategic nuclear forces. Or it might also do so over North Korea.
https://www.atlanticcouncil.org/content-series/atlantic-council-strategy-paper-series/the-longer-telegram/

Editorial comment:
It might be consequential for Poland
3. Forbs Attacks Dr. Mercola. 
"In 2014, the Chinese company Integrated Whale Media Investments bought 95% controlling interest in Forbes. Basically, with just 5% worth of shares in American hands, I think it's safe to say Forbes is a Chinese-controlled company."
"That the proverbial choke collar is getting yanked by its communist masters seems evident in the magazine's rather sudden embrace of radical censorship…."
https://articles.mercola.com/sites/articles/archive/2021/02/04/forbes-attacks-mercola.aspx?cid_medium=etaf&cid=share
Editorial comment:
It should be kept in mind by the readers of Forbes.