EUROPE
1.  Germany in rainbow colours as Hungary LGBTQ row heats up
Germany put on a show of colour on Wednesday in defiance of UEFA's refusal to light Munich's Euro 2020 stadium in rainbow hues, as a political row over Hungary's anti-LGBTQ law escalated.
Munich city authorities had planned to light the Allianz stadium up in rainbow colours during Germany's match against Hungary to "send a visible sign of solidarity" with Hungary's LGBTQ community.
But UEFA refused the request and on Wednesday again doubled down on its stance.
UEFA president Aleksander Ceferin said his organisation could not give in to "populist" demands from politicians but Germany said the football body sent the "wrong message".
https://sports.yahoo.com/germany-turns-rainbow-coloured-protest-095711805.html
2.  Slovakia: Parliament backs pension cuts for former communist officials
Members of Slovakia's former communist regime will see their pensions cut after the country's Parliament approved new legislation on Wednesday.
Prime Minister Eduard Heger said the aim of the law was to correct "a terrible contrast" between the unjustifiably high pensions received by those who persecuted people, and the low pensions of those who were persecuted.
The law will enter into force in August and affect an estimated 5,000 people.
The reduction will be calculated on the basis of how many years they were employed in these positions.
https://www.euronews.com/2021/06/23/slovakia-parliament-backs-pension-cuts-for-former-communist-officials
3.  COVID-19 gave terrorists new opportunities to spread message, Europol says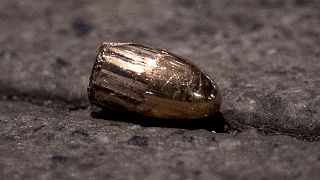 It [EU Terrorist Situation and Trend Report]flagged that 57 completed, failed and foiled terrorist attacks were reported across the bloc in 2020, although they occurred in just six member states: Austria, Belgium, France, Germany, Italy and Spain.
Twenty-one people died as a result of these attacks while 449 individuals were arrested on suspicion of terrorism-related offences in 17 member states — a third lower than in 2019.
Lone-wolf jihadist attacks on the rise
Jihadist terrorism remains the greatest threat to the 27-country bloc, according to Europol, with the number of completed attacks increasing year-on-year to 10. These killed 12 people and injured nearly 50 more.
All were carried out by lone actors, some of whom were in contact with terrorist groups, including the perpetrator of the November 2020 Vienna attack who killed four people.
https://www.euronews.com/2021/06/23/covid-19-gave-terrorists-new-opportunities-to-spread-message-europol-says
4.  Hungary remains defiant after 13 EU nations condemn Hungarian child protection law.
In a move the Hungarian justice minister characterized as a "war of worlds", 13 members of the European Union's General Affairs Council passed on Tuesday, June 22, a resolution condemning the country for its recently passed children protection law, which opponents characterized as anti-LGBT.
The motion — submitted to the council by the Benelux states — was eventually endorsed by Denmark, Estonia, Finland, France, Germany, Ireland, Lithuania, Spain, Sweden, and Latvia.
"Stigmatizing LGBTIQ persons constitute a clear breach of their fundamental right to dignity, as provided for in the EU Charter and international law", [the countries said]
"This is a war of worlds, it's not about the law anymore," Judit Varga, [Hungarian Justice Minister] said. "I am sorry that Europe is under pressure from the liberal steamroller today. The Hungarian government has a legitimate opinion that protecting families and ensuring the undisturbed development of children is a duty. This cannot be taken out of the hands of families, it cannot be subjected to the influence of lobby groups."
https://rmx.news/article/article/eu-continues-witch-hunt-against-hungary
5.  Germany's continued pivot to the left will empower EU institutions and harm nation-states
Opinion by former Speaker of Polish Sejm Marek Jurek
Germany's pivot to the left will increase pressure for supremacy of EU institutions over nation-states, writes influential Polish conservative commentator and former Speaker of Sejm Marek Jurek.
In the German election campaign, the Christian Democratic Union of Germany (CDU) and the Greens are going head-to-head.
Even if the CDU (severely weakened by the loss of a substantial portion of its voting bloc) will win more votes than the Greens, it will still have to form a coalition government with one of the left parties and will have an even weaker position in that government than it has now.
There is also consensus in Germany when it comes to strengthening the EU. The left is driven by the passion for creating a new European society, and the center-right is aware of Germany's domination in the EU and is treating this policy in imperial terms (although it would never acknowledge this publicly).
[…]Therefore, the more Germany pivots to the left, the stronger the pressure for achieving supremacy of EU institutions over nation-states will be. We must prepare for this perspective while considering Poland's policy in the coming years.
https://rmx.news/article/commentary/germany-s-continued-pivot-to-the-left-will-empower-eu-institutions-and-harm-nation-states
OTHER
6.  U.S. Department of State on U.S.-Germany Dialogue on Holocaust Issues
"[I]t's so important that we speak the truth about the past, to protect the facts when others try to distort or trivialize Holocaust crimes, and to seek justice for the survivors and their families." 
– Secretary Blinken, January 27, 2021 
Secretary Antony J. Blinken and German Foreign Minister Heiko Maas met today in Berlin at the Memorial to the Murdered Jews of Europe to launch a new dialogue on Holocaust issues.  Secretary Blinken and Foreign Minster Maas underscored our shared commitment to combatting Holocaust denial and distortion, and to finding innovative new ways to enhance Holocaust education.
Need for Action
Seventy-six years after the end of the Holocaust, in country after country and as the last survivors and witnesses are dying, knowledge of the Holocaust is fading.  Some individuals and organizations, and occasionally even governments, are engaging in Holocaust denial and distortion.
Anti-Semitism is rising around the world, and there is a direct correlation between Holocaust ignorance and anti-Semitism.
It is more important today than at any time since the end of World War II to ensure there is an accurate understanding of the Holocaust, the forces that brought it about, and its tragic consequences. Complacency and lack of preparedness allowed the rise of fascism, anti-Semitism, and racism that led to the Holocaust.
Hatred and prejudice are inimical to U.S., Transatlantic, and global interests and values.
U.S.-German Cooperation
Today, the United States and Germany launched a dialogue on Holocaust issues. Formal senior-level consultations are planned for late 2021 and will include representatives of the United States Holocaust Memorial Museum and the German foundation Memorial to the Murdered Jews of Europe.
Our shared commitment to a regular dialogue underscores our desire to contribute to a world in which knowledge of the Holocaust is abundant, fact-based, and serves as a foundation for tackling today's challenges, including those that lead to the normalization of hatred that can result in demonization or persecution of those perceived as "the other."
Jointly with Germany, we will produce strategies and tools that governments can deploy to improve education and training on the Holocaust, counter Holocaust denial and distortion, combat anti-Semitism, and ensure policymakers have a strong understanding of these issues and of their responsibility to act.
We will support innovation in education and commemoration, joint initiatives to ensure understanding of the Holocaust remains grounded in historical fact, and training activities for stakeholders in democratic societies on Holocaust issues.
By launching this bilateral consultation, and by raising public awareness about anti-Semitism and the hatred of "the other" that paved the way for the horrific crimes of the Holocaust, we can stand together as Transatlantic partners to ensure such atrocities never again occur.
https://www.state.gov/u-s-germany-dialogue-on-holocaust-issues/
7.  The United States Holocaust Memorial Museum – Statement on Formal Agreement between U.S. and Germany to Advance Holocaust Issues
JUNE 24, 2021
The United States Holocaust Memorial Museum welcomes the historic announcement establishing a state-to-state dialogue on Holocaust issues by the U.S. Department of State and the Federal Foreign Office of The Republic of Germany. This new commitment to regular bilateral dialogue at the senior governmental level will help ensure that the United States and Germany can coordinate more closely in addressing many of the growing number of challenges that threaten long-term memory of the Holocaust.  Given the rise in antisemitism and Holocaust distortion just as the survivor generation is diminishing, this governmental cooperation is more important than ever.
As an independent establishment of the U.S. government charged with commemorating and educating about the Holocaust and its continuing relevance, the Museum is privileged to play a role in this dialogue, building on our many years of cooperation with several German officials and institutions and with the State Department. We look forward to working with our partners in both the American and German governments to develop approaches that strengthen understanding of the causes and events of the Holocaust as well as its contemporary significance for future generations.
https://www.ushmm.org/information/press/press-releases/museum-statement-on-formal-agreement-between-u.s.-and-germany-to-advance-holocaust-issues
7.  Secretary Antony J. Blinken and German Foreign Minister Heiko Maas at a Joint Press Availability
Fragment:
FOREIGN MINISTER MAAS:  (Via interpreter)  During our conversation today, Tony was very clear in impressing upon me that as far as Nord Stream 2 is concerned, Washington has expectations of Germany and that expectations are that we make sure that President Putin cannot misuse the pipeline to exert pressure on Ukraine.  We are quite aware of this, and we want to make our contribution in that regard.
In the past, already we started to work in that direction by making sure that there is an alternative gas transit agreement via the Ukraine and that we'll continue to stand – and that we'll continue to stand once Nord Stream 2 goes operational.  We are right now in the midst of talks about how we can fulfill these expectations that Washington has of us.
https://www.state.gov/secretary-antony-j-blinken-and-german-foreign-minister-heiko-maas-at-a-joint-press-availability/