WORLD POLITICS
1.  US Reliance on Russian Oil Surges to Record High Amid Tensions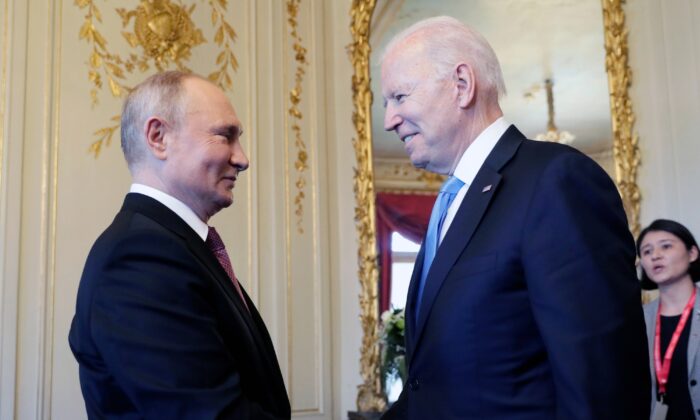 Russian oil imports have set a new record in the United States despite the strained relationship between Washington and Moscow. Industry experts believe the Biden administration's climate policies will make the country more dependent on foreign oil producers.
The United States imported record levels of crude oil from Russia in March and is expected to continue importing at high levels in coming months, according to the Western Energy Alliance, a trade association that represents 200 independent natural gas and oil producers in the United States.
https://www.theepochtimes.com/us-reliance-on-russian-oil-surges-to-record-highs-amid-tensions_3863635.html?utm_source=pushengage
2.  Chinese Defector's Identity Confirmed, Was Top Counterintelligence Official
The Free Beacon reports that U.S. intelligence officials haven't come to a conclusion about whether or not the students being investigated were spies, but RedState is told that whether or not one wants to use the term "spy," those students were sent back to the United States with specific information-gathering directives with the purpose of helping Beijing understand the US government's response to the pandemic at a much deeper level than they could through publicly-available documents. Those students (spies) were charged with reporting back on public policy changes, economic response and damage, impacts on the healthcare system (equipment/hospital bed shortages, etc), supply chain impacts (including how long it took things like semiconductors from China to reach the United States), civil unrest, and more.
In addition, Dong has provided DIA with the following information:
Early pathogenic studies of the virus we now know as SARS-CoV-2
Models of predicted COVID-19 spread and damage to the US and the world
Financial records detailing which exact organizations and governments funded the research on SARS-CoV-2 and other biological warfare research
Names of US citizens who provide intel to China
Names of Chinese spies working in the US or attending US universities
Financial records showing US businessmen and public officials who've received money from the Chinese government
Details of meetings US government officials had (perhaps unwittingly) with Chinese spies and members of Russia's SVR
How the Chinese government gained access to a CIA communications system, leading to the death of dozens of Chinese people who were working with the CIA
https://redstate.com/jenvanlaar/2021/06/17/breaking-chinese-defector-confirmed-as-top-counterintelligence-official-n398374
3.  Florida: DeSantis Signs Bill Requiring High School Students Learn 'Evils Of Communism And Totalitarian Ideologies'
Florida HB 5 adds a requirement to the high school government curriculum that students be taught the "evils of communism and totalitarian ideologies."
"We have a number of people in Florida, particularly southern Florida, who've escaped totalitarian regimes, who've escaped communist dictatorships to be able to come to America. We want all students to understand the difference, why would somebody flee across shark-infested waters, say leaving from Cuba to come to southern Florida. Why would somebody leave a place like Vietnam? Why would people leave these countries and risk their life to be able to come here. It's important students understand that," DeSantis said.
https://dailycaller.com/2021/06/22/desantis-bill-students-learn-evil-communism/?utm_medium=push&utm_source=daily_caller&utm_campaign=push
EUROPE
4.  The liberal steamrollers are once again at work against Hungary.
source: Cabinet Office Of The Prime Minister
They're now setting off alarm bells across Europe over Hungary's new laws to severely punish pedophiles and protect our children. Let's face it, this movement is eternal, and its new slogan is no longer "Proletarians of the world, unite!" but "Liberals of the world, unite!" This, of course, reinforces the Central European conviction that today's liberals are in fact communists with degrees.
The current left-wing campaign against Hungary is further proof that today, the left is the enemy of freedom, because instead of freedom of speech, they want political correctness as defined by them, and hegemony of opinion instead of a pluralism of ideas.
The new Hungarian law does not conflict with any lofty ideals or European laws. The new Hungarian law simply states clearly that only parents can decide on the sexual education of their children. Education in schools must not be in conflict with the will of parents; it must at most be supplementary, its form and content must be clearly defined and it must be subject to parental consent.
Parents also rightly expect that on platforms used by our children, pornography, sexuality for its own sake, homosexuality and gender reassignment programs should not be available. These restrictions must also be defined with surgical precision. In Hungary, no one has a say in how adults live their lives. In our view, a free adult should not have to give an account of his life in front of any secular authority — only before God when the time comes.
Therefore, the Hungarian law does not apply to the lives and sexual practices of adults over 18, nor to what they are exposed to as an adult in the public realm. Moreover, in the European context, Hungarian society is among Europe's most committed nations to individual freedom and tolerance. The reasons for this are rooted in our cultural traditions, in Christian freedom, in the struggle for national freedom and in a deep contempt for communism and communist tyranny.
Hungarian freedom means not only political freedom, freedom of choice, freedom of speech, freedom of assembly and association, but also the right to defend our families and educate our children as we see fit. Our law is a worthy continuation of the European tradition of freedom.
The debate on the future of Europe – that is, our children – has just begun. We are here, and we stand ready
https://miniszterelnok.hu/samizdat-no-10/
5.  Farewell to Witold Kiezun, hero of the Polish resistance and a survivor of the Soviet Gulag
He was taken prisoner by the Germans in 1939
Witold's life has episodes typical of an epic story. He was born into a Catholic family on February 22, 1922 in Vilnius, then part of Poland. Both his father, Witold, and his mother, Leokadia Bokun, were doctors. His father died when he was 9 years old, after which the family moved to Warsaw. Witold was 17 years old when Germany, the USSR and Slovakia invaded Poland in September 1939. He was taken prisoner by the Germans on the 17th of that month, but managed to flee and return to Warsaw, later moving to Żoliborz with his mother, where they gave refuge to two relatives: his aunt Irena, of Jewish descent, and his cousin Leon, a Catholic, who died in 1940 in Auschwitz.
He fought in the Polish resistance with the Armia Krajowa
Like many other compatriots, Witold joined the Polish resistance as early as 1939, adopting the code name "Wypad" (Excursion). In addition to earning a living as a glazier, he devoted himself to distributing underground press and studied Mechanical and Electrical Engineering and also Law at the Underground University of Warsaw (Polish universities had been closed by the Germans, but the Polish resistance continued with the secret academic activity). Witold was part of the Armia Krajowa (AK, National Army), the largest resistance organization of World War II, serving in the AK Headquarters and in the "Karpaty" and "Gustaw" battalions. As part of his activity, he offered his apartment as a weapons depot, which could have cost him his life if discovered by the Germans.
The heroic action in which he alone captured 14 German soldiers
Like other AK fighters, Witold joined the Warsaw Uprising of 1944, the biggest popular uprising of World War II, which lasted two months despite the insurgents' limited means. In that battle, Witold reached the rank of second lieutenant and was awarded the Cross of Valor and the Virtuti Militari (the highest Polish military decoration) after capturing alone, armed with an MP-40 submachine gun and shouting intimidation, 14 German SS soldiers and seize a machine gun, 14 rifles and 2,000 rounds. He was 22 years old at the time.
More about this great man can be read here:
Farewell to Witold Kieżun, hero of the Polish resistance and a survivor of the Soviet Gulag
BATTLE OF IDEAS
6.  Woke Ideology Mimics Precursors to Totalitarian Slaughter, Experts Say
[…]The first of the four claims is that "the world is best viewed through a group oppression narrative lens."
The "woke" ideology is based on a set of quasi-Marxist theories that divide society into "oppressors" and the "oppressed" based on characteristics such as race, sex, class, or sexual proclivities.
The second claim is that "evidence of oppression is the inequality between groups," the documentary says. If the designated "oppressed" group does on average worse in some regard than the designated "oppressor" group, that is taken as virtually unassailable proof of "oppression."
The third claim is that "peaceful dialog and understanding between the groups is impossible since the dominant group's strategy is to retain its power."
Finally, the ideology at least implicitly acknowledges that "because of the above, violence is justified to eradicate the inequities," the documentary says.
[…]
Postmodernism introduced the idea of fundamental relativism, professing that there is no objective truth, but instead the powers that be establish as true whatever is in their interest.
While the documentary notes that this notion is itself a "truth claim" and thus undermines its own validity, Rectenwald pointed out that adoption of the notion has serious real-life implications.
"The problem with this is not simply that we have no criteria for truth claims with this kind of notion, but rather it leaves open the possibility that when it has the requisite power behind it then anything can be asserted and can be asserted with force," he said.
He gave the example of the ideology behind the transgender movement sweeping through government institutions.
"The force of the state is behind it and they can say that if you don't accept that your child is a boy or a girl when they are the other then you could go to jail for this … or you could lose custody of your child," he said.
"So when my truth becomes as good or better than any objective truth then we get to this point where the requisite power is applied and therefore we get the kind of authoritarianism and totalitarianism that we saw in the Soviet Union where people were forced to maintain things they knew to be false."
https://www.theepochtimes.com/woke-ideology-mimics-precursors-to-totalitarian-slaughter-experts-say_3865035.html?utm_source=pushengage