NEWS AND COMMENTARIES
Opinions expressed in the articles or videos do not represent the views of Polonia Institute
EUROPE
1.  'A victory so big you can see it from the moon… and Brussels,' says Hungary's Viktor Orban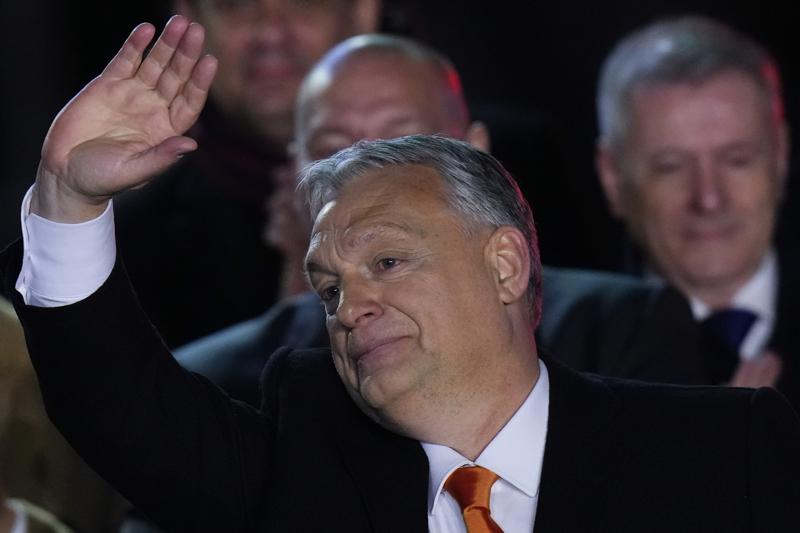 Hungary's nationalist Prime Minister Viktor Orban declared victory in Sunday's national elections, claiming a mandate for a fourth term as a still incomplete vote count showed a strong lead for his right-wing party.
In a 10-minute speech to Fidesz party officials and supporters at an election night event in Budapest, Orban addressed a crowd cheering "Viktor!" and declared it was a "huge victory" for his party.
"We won a victory so big that you can see it from the moon, and you can certainly see it from Brussels," said Orban, who has often been condemned by the European Union for overseeing democratic backsliding and alleged corruption.
With around 91% of votes tallied, Orban's Fidesz-led coalition had won 53%, while a pro-European opposition coalition, United for Hungary, had just over 34%, according to the National Election Office.
https://www.euronews.com/my-europe/2022/04/04/a-victory-so-big-you-can-see-it-from-the-moon-and-brussels-says-hungary-s-viktor-orban
2.  As the war in Ukraine rages on, Europe braces itself for stagflation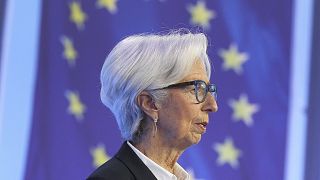 2022 was supposed to be the year when the EU moved on from the economic woes of the pandemic and entered a new chapter of recovery and prosperity. Then Vladimir Putin decided to invade Ukraine.
A month after the start of the war, all forecasts and expectations have been thrown out of the window.
Annual inflation in the Eurozone has surged to 7.5%, up from 5.9% in February and higher than most analysts had predicted. Energy prices alone have skyrocketed 44.7% on a yearly basis, a stunning rise compared to the 4.3% rate registered in March 2021.
As Moscow shows no signs of giving up on its brutal military campaign, uncertainty over the EU's immediate future only deepens. The perfect storm of rising prices, constrained supply chains, and economic deceleration is fuelling fears of stagnation and a sudden halt to the post-coronavirus revival.
https://www.euronews.com/my-europe/2022/04/04/as-the-war-in-ukraine-rages-on-europe-braces-itself-for-stagflation
3.  Slovakia to make Russian gas payments in rubles
"I have to provide energy for the Slovak economy," notes Slovakia's economy minister Richard Sulík
4.  Staying neutral: Moldova's PM Natalia Gavrilița says yes to joining the EU but no to NATO
Sándor Zsíros, Euronews:
"How do you see the security situation of your country with the war in Ukraine? Is Moldova under direct military threat by Russia?"
Natalia Gavrilița, Prime minister of Moldova
"It is very unfortunate what is happening in Ukraine. We condemn the war and we strongly support Ukrainian independence and territorial integrity within its internationally recognised borders. We are living in a complex region with security issues for Moldova as well, especially regarding the Transnistrian and separatist region. But we are currently seeing no danger or risks of spill-over into the Transnistria region. We are continuing with our negotiating formats. Moldova is a neutral country. Its neutrality is enshrined in the constitution and we expect everyone to act in accordance with this principle."
Sándor Zsíros, Euronews:
"Some Romanian political parties say there should be a referendum so Moldova can unite with Romania and get into the EU and NATO this way. Is this scenario on the table?"
Natalia Gavrilița, Prime minister of Moldova
"Currently, we are not discussing this option."
https://www.euronews.com/2022/03/08/staying-neutral-moldova-s-pm-natalia-gavrilita-says-yes-to-joining-eu-but-no-to-nato
RUSSIA-UKRAINE CONFLICT
5.  Russian Forces Continue to Refocus on Offensive in Eastern Ukraine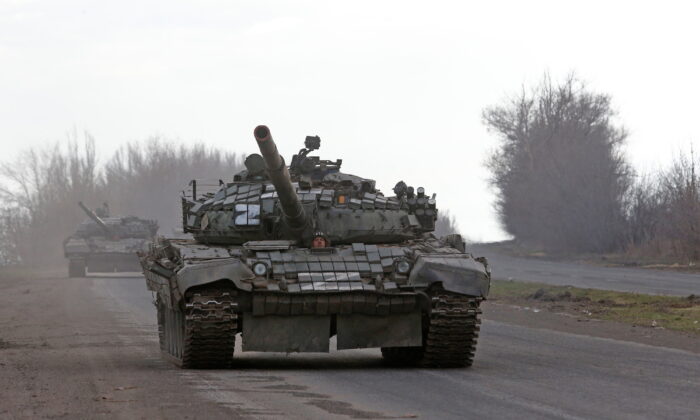 British intelligence said Monday that Russian forces were continuing to consolidate and reorganize as they refocus their offensive in the Donbass region in the east of Ukraine.
Russian troops, including mercenaries from the Russian state-linked Wagner private military company, were being moved into eastern Ukraine, the UK Ministry of Defence said in an update.
Christo Grozev, the lead Russia investigator with investigative journalist group Bellingcat, said in a Twitter post Monday that Wagner mercenaries had been spotted in Donetsk, one of the contested regions in eastern Ukraine that make up the Donbass.
Russia's defense ministry said Monday that Moscow-aligned troops of the so-called Donetsk People's Republic were "developing the offensive," seizing a fortified area and "liberating" the city of Novobakhmutovka, claiming to have destroyed up to a company of Ukraine's 25th Airborne Brigade in the fighting.
https://www.theepochtimes.com/russian-forces-continue-to-refocus-on-offensive-in-eastern-ukraine_4380721.html
6.  In Ukraine, New Reports of War Crimes Emerge as Russians Retreat From Kyiv Area
More than 100 civilians lay buried in mass graves in this suburb of Kyiv after Russian troops withdrew last week, one of several regions in which Ukrainian officials and independent rights watchdogs say they are uncovering evidence of war crimes perpetrated by occupation forces.
When the Russian military forces abandoned Bucha, it left streets littered with bodies of civilians. Human Rights Watch on Sunday released a report documenting instances of rape and summary executions in Russian-occupied parts of Ukraine, including Bucha, as well as other alleged crimes.
https://www.wsj.com/articles/ukrainians-count-dead-dig-mass-graves-clear-land-mines-after-russian-pullback-11648970003
7.  Russia denies killing civilians in Ukraine's Bucha
Russia on Sunday denied Ukrainian allegations that it had killed civilians in the Ukrainian town of Bucha, describing footage and photographs of dead bodies as a "provocation" and a "staged performance" by Kyiv.
[…] It called the footage "another staged performance by the Kyiv regime for the Western media."
https://english.alarabiya.net/News/world/2022/04/03/Russia-denies-killing-civilians-in-Ukraine-s-Bucha
8.  Pentagon can't 'independently' confirm images out of Ukraine's Bucha: US official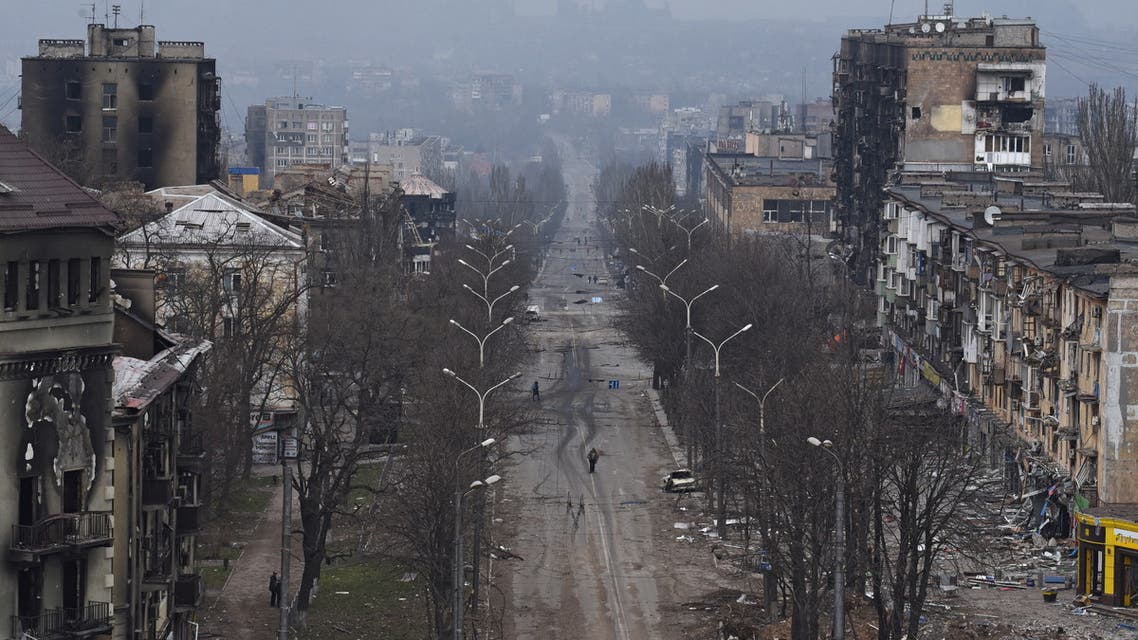 The Pentagon said Monday that it could not "independently and single-handedly" verify the atrocities carried out by Russia against civilians in Ukraine's Bucha but called the accounts "disgusting."
"The Pentagon can't independently and single-handedly confirm that, but we're also not in any position to refute those claims," a senior US defense official told reporters.
https://english.alarabiya.net/News/world/2022/04/04/Pentagon-can-t-independently-confirm-images-out-of-Ukraine-s-Bucha-US-official
9.  Putin's 20-Year March to War in Ukraine
In early November, months before the war began, CIA Director William Burns visited Moscow to deliver a warning: The U.S. believed Russian President Vladimir Putin was preparing to invade Ukraine. If he went ahead, he would face crippling sanctions from a united West.
The American spy chief was connected on a secure Kremlin phone with Mr. Putin, who was in the Black Sea resort of Sochi, isolated from all but a few confidants. The Russian leader made no effort to deny Mr. Burns' charge. Instead, he calmly recited a list of grievances about how the U.S. had for years ignored Russian security concerns.
https://www.wsj.com/articles/vladimir-putins-20-year-march-to-war-in-ukraineand-how-the-west-mishandled-it-11648826461?mod=world_trending_now_article_pos3
10.  Russia has killed civilians in Ukraine. Kyiv's defense tactics add to the danger.
[…] Increasingly, Ukrainians are confronting an uncomfortable truth: The military's understandable impulse to defend against Russian attacks could be putting civilians in the crosshairs. Virtually every neighborhood in most cities has become militarized, some more than others, making them potential targets for Russian forces trying to take out Ukrainian defenses.
"I am very reluctant to suggest that Ukraine is responsible for civilian casualties, because Ukraine is fighting to defend its country from an aggressor," said William Schabas, an international law professor at Middlesex University in London. "But to the extent that Ukraine brings the battlefield to the civilian neighborhoods, it increases the danger to civilians."
[…] Ukraine's strategy of placing heavy military equipment and other fortifications in civilian zones could weaken Western and Ukrainian efforts to hold Russia legally culpable for possible war crimes, said human rights activists and international humanitarian law experts. Last week, the Biden administration formally declared that Moscow has committed crimes against humanity.
"If there is military equipment there and [the Russians] are saying we are launching at this military equipment, it undermines an assertion that they are attacking intentionally civilian objects and civilians," said Richard Weir, a researcher in Human Rights Watch's crisis and conflict division, who is working in Ukraine.
https://www.washingtonpost.com/world/2022/03/28/ukraine-kyiv-russia-civilians/
11.  Release of Ukraine Intelligence Represents New Front in U.S. Information War With Russia
To fight Kremlin, Biden authorized initiative to declassify and share information with the public and allies
The new approach to public intelligence sharing has involved declassifying a cascade of secrets normally reserved for top policy makers: updates on Russian troop movements; detailed allegations that Moscow would stage a pretext for its invasion; even, last week, reports of growing tension between Mr. Putin and his generals. White House officials call the strategy "downgrade and share"—with "downgrade" referring to lowering the classification level of U.S. documents or data.
[…] some see "downgrade and share" as foreshadowing future uses of intelligence in international crises.
"I really think this is a harbinger," said Glenn Gerstell, former general counsel at the National Security Agency. "Future conflicts are going to be shaped, instigated and deterred by releases of information beforehand."
https://www.wsj.com/articles/release-of-secrets-represents-new-front-in-u-s-information-war-with-russia-11649070001
12.  US pushes to suspend Russia from Human Rights Council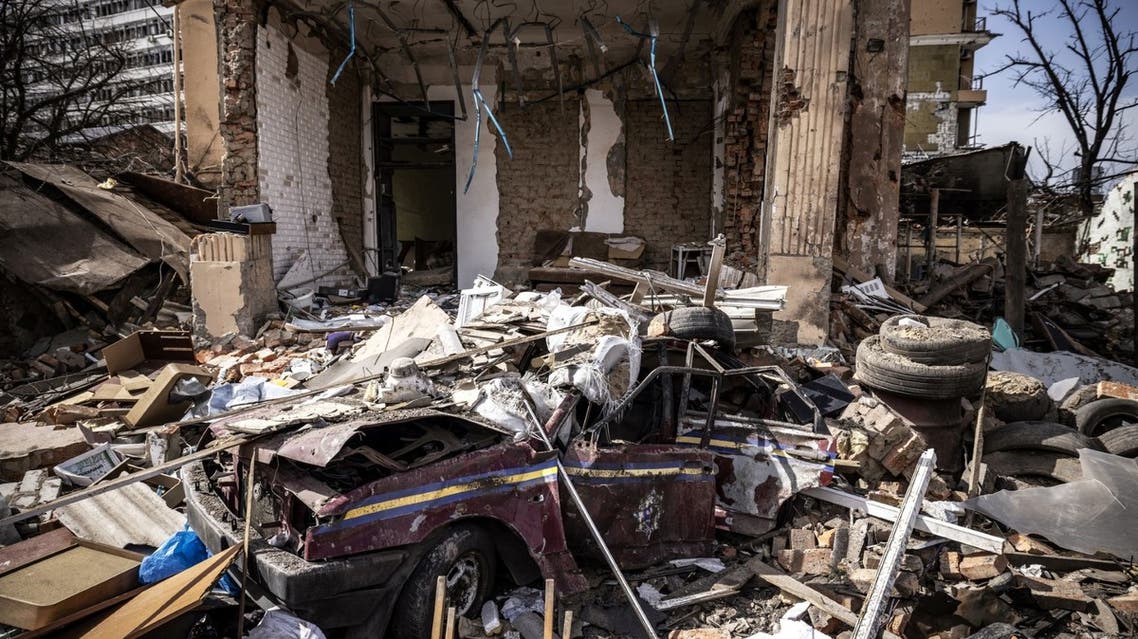 The United States will ask the UN General Assembly to suspend Russia from the Human Rights Council, the US ambassador to the United Nations said on Monday, after Ukraine accused Russian troops of killing dozens of civilians in the town of Bucha.
A two-thirds majority vote by the 193-member assembly in New York can suspend a state from the council for persistently committing gross and systematic violations of human rights.
https://english.alarabiya.net/News/world/2022/04/04/US-pushes-to-suspend-Russia-from-Human-Rights-Council
13.  Putin Signs Decree Imposing Restrictions on 'Unfriendly' Countries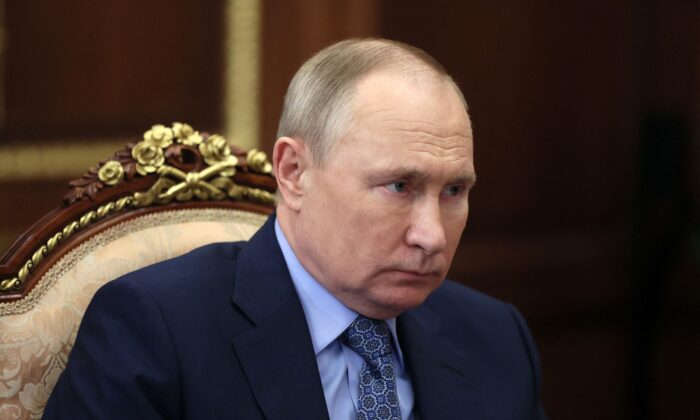 Russian President Vladimir Putin signed a decree Monday to place visa restrictions on countries that have taken "unfriendly actions" against the Kremlin in recent weeks.
The decree was mandated "in response to unfriendly actions of the European Union," according to the text of the order, as reported by state-run media. Russian news outlets also published a photo of Putin signing the measure.
It ordered the Russian foreign ministry and other bodies to decide on introducing personal entry restrictions on "foreign citizens and stateless people who commit unfriendly actions against Russia, its citizens or its legal entities."
https://www.theepochtimes.com/putin-signs-decree-imposing-restrictions-on-unfriendly-countries_4381151.html
14.  Russia moves closer to gold standard and what it really means
Towards the end of March, Russia made a rather startling announcement that could have long term implications. It decided to set a new peg for the Rouble in terms of gold. The benchmark, to begin with, was Rouble 5,000 per gram of gold. If you consider the global price of gold in dollar terms, this amounts to a substantial overvaluation of the Rouble vis-à-vis the dollar. However, Russia has made it clear that its peg with the dollar is immaterial and what matters is the peg of Rouble to gold.
Sanctions and the aftermath
How has Russia reacted to these sanctions?
How the Rouble gold peg will undermine the dollar?
What is the bottom-line and what this could imply?
https://www.indiainfoline.com/article/general-others-factiva/russia-moves-closer-to-gold-standard-and-what-it-really-means-122040400030_1.html
15.  Academic Terrorism: How Think Tanks Stoked Ukraine Crisis?
A "prophetic" RAND Corporation report titled "Overextending and Unbalancing Russia" published in 2019 declares the stated goal of American policymakers is "to undermine Russia just as the US subversively destabilized the former Soviet Union during the Cold War," and predicts to the letter the crisis unfolding in Ukraine. RAND Corporation is a quasi-US governmental think tank that receives three-quarters of its funding from the US military.
While designating Russia as an "intractable adversary," the report notes that "Russia has deep seated anxieties" about Western interference and potential military attack. These anxieties are deemed to be "a vulnerability to exploit."
The RAND report lists several "provocative measures" to insidiously "destabilize and undermine" Russia. Some of the steps include: repositioning bombers within easy striking range of key Russian strategic targets; deploying additional tactical nuclear weapons to locations in Europe and Asia; increasing US and allied naval force posture and presence in Russia's operating areas (Black Sea); holding NATO war exercises on Russia's borders; and withdrawing from the Intermediate Nuclear Forces (INF) Treaty.
[…]
In December 2021, Russia proposed a peace treaty with the US and NATO. The central Russian proposal was a written agreement assuring that Ukraine would not join the NATO military alliance. When the proposed treaty was contemptuously rebuffed by Washington, it appeared the die was cast.
The Intercept reported on March 11 that despite staging a massive military buildup along Russia's border with Ukraine for nearly a year, "Russian President Vladimir Putin did not make a final decision to invade until just before he launched the attack on February 24," senior current and former US intelligence officials told the Intercept. "It wasn't until February that the agency and the rest of the US intelligence community became convinced that Putin would invade," the senior official added.
SOCIETY
16.  The Crisis

Broadly speaking, a crisis comes in two forms. There is the internal crisis driven by irreconcilable contradictions. Then there is the external crisis that is driven by some unusual occurrence like a natural disaster. The latter tests mostly the ability of the system to weather the storm and recover. The former tests the ability of the system to radically alter itself in order to address the contradiction. This is the most dangerous crisis and the one that few systems survive.
Of course, the internal crisis can be papered over for a long time until some external crisis comes along and makes that impossible. The external crisis puts pressure on the system, forcing it to respond under duress. The internal problems are then made obvious as the system responds poorly. Efforts to quickly resolve those issues in order to address the immediate problems just create new problems. This was the process that led to the French Revolution.
PANDEMIC
 17.  A proposal at  the World Health Organization [Video]
A proposal at  the World Health Organization(WHO) would give it the power to manage a future health crisis or pandemic, globally, including with powers to sanction. According to Nick Corbishley, author of "Scanned: Why Vaccine Passports and Digital IDs Will Mean the End of Privacy and Personal Freedom," under this policy the WHO will be able to dictate responses to pandemics in different countries, and sanction countries that refuse to comply.
In addition, Corbishley notes that private finances behind the WHO could steer some of the policies, with organizations including the Bill and Melinda Gates Foundation and the Rockefeller Foundation being among them.
He warns that if the WHO gains these powers, it could easily lead to forced social monitoring systems on-par with the Chinese regime's social credit system, using the vaccine passports as the vehicle.
https://www.theepochtimes.com/premiering-at-730pm-who-plot-for-globalist-control-and-vaccine-passport-end-game-nick-corbishley_4376570.html?utm_source=pushengage