World Politics
1.  Israeli Official: Biden told Mossad director US isn't close to returning to Iran deal 
President Biden told the director of Israel's foreign intelligence service, Yossi Cohen, on Friday that the U.S. has a long way to go in talks with Iran before it agrees a return to full compliance of the 2015 nuclear deal, per a senior Israeli official briefed on the talks.
State of play: Cohen, who has been director of the Mossad since 2016, laid out Israel's position on the issue, telling Biden it would be a mistake for the U.S. to return to the deal without improving it first. Biden assured Cohen that the U.S. will continue to seek Israel's input in the future.
https://news.yahoo.com/israeli-official-biden-told-mossad-185734127.html
EUROPE
2. Right-wing opposition wins in Madrid regional election, increasing seats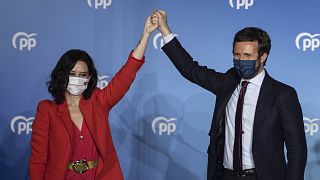 Residents in Madrid voted overwhelmingly to reelect their regional assembly, giving the right-wing Popular Party the most seats.
With 99.9% of the ballots counted, the Popular Party (PP) had 65 seats out of 136 in the regional assembly, doubling the number from the last regional election, but leaving them short of an outright majority of 69 seats.
https://www.euronews.com/2021/05/04/madrid-elections-right-wing-opposition-to-increase-seats-in-regional-assembly
3. The threat of Communism is real
Fragments of an interview with Rocio Monasterio,  a Spanish–Cuban architect, businesswoman and politician. The leader of the Madrid branch of the Spanish political party Vox.[1] She serves as a member of the 11th term of the  Assembly of Madrid.
The interview was conducted by Malgorzata Wolczyk
Małgorzata Wołczyk: The conservative VOX party on behalf of which you are applying for the office of president of the Community of Madrid in some respects is worse off than Poles during the communist era. Today, everyone is against "right-wing populisms" – from the media to EU officials. We both know what communism is – because you come from Cuba and I come from Poland. Why do so many Spaniards still believe in communism despite our testimonies?
Rocío Monasterio: First, Poles and Cubans felt the "blessings" of communism first-hand, while the Spaniards know it only from stories. So far this system has not been installed here, but there is a real danger if we repeat some mistakes. The elite, the political class, even the middle class do not believe that communism can threaten us. The same thing happened to the Venezuelans. They always told me: "We also couldn't believe that the same thing could happen to us as it did happen to the Cubans." Still, look what happened there. And we are faced with the same. You cannot accept these slow changes, you cannot avoid confrontation. One must firmly oppose this new dictatorship of the progressivists, because they have clearly defined goals and strive to impose them. VOX is the only force that realistically opposes it and I think there are more of us every day. The Spaniards are already aware of these dangers, they are already suffering from the loss of certain freedoms.
The problem probably also stemmed from education, culture appropriated by the left. After all, communism left millions of victims and enough witnesses for young people not to believe the promises made to them by today's heirs of this ideology.
Communism destroys everything it touches. The left has taken over the universities and that is why students today proudly wear T-shirts with the image of Che Guevara: a murderer, racist, homophobe. So it seems that no one has explained to young people what ideology he represented. We have a huge problem with left-appropriated education, and therefore there is a fear that we may end up with some kind of totalitarianism.
https://dorzeczy.pl/opinie/183419/rozmowa-z-kandydatka-na-prezydenta-wspolnoty-madrytu.html
Electronics/Information Technology
4.The Blockchain and the Future of Everything
The blockchain is essentially a massive decentralized electronic database that is extremely difficult to hack and manipulate. However, it is not like a typical database like a computer hard drive. Investopedia explains,
"One key difference between a typical database and a blockchain is the way the data is structured. A blockchain collects information together in groups, also known as blocks, that hold sets of information. Blocks have certain storage capacities and, when filled, are chained onto the previously filled block, forming a chain of data known as the "blockchain." All new information that follows that freshly added block is compiled into a newly formed block that will then also be added to the chain once filled."
The blockchain can be used to perform all sorts of activities such as monetary transactions, storing personal data, and holding contracts. The most important thing is that it is virtually impossible to manipulate, which not only makes it extremely secure but allows people to trust the person on the other end. The blockchain is powered by a decentralized network of participating computers around the world, not a single entity like a tech company or a government. Therefore, unlike contemporary examples of decentralized data like "the cloud, which at the end of the day belongs to a single tech company like Apple or Google, the blockchain belongs to everyone and nobody at the same time.
https://www.aier.org/article/the-blockchain-and-the-future-of-everything/
American society
5. Wealthy corporations back Equality Act stripped of religious freedom protection
More than 400 companies, including dozens of Fortune 500 companies, have joined a business coalition in support of the Equality Act, the LGBT advocacy group Human Rights Campaign said on April 27.
The Equality Act would add sexual orientation and gender identity as protected categories under federal civil rights law, where race is currently protected.
The legislation also prevents religious freedom claims from being made by individuals and groups under the Religious Freedom Restoration Act (RFRA). The landmark 1993 law has been invoked by many as a defense against various government mandates, but the Equality Act would override those religious freedom protections.
https://www.catholicnewsagency.com/news/247520/wealthy-corporations-back-equality-act-stripped-of-religious-freedom-protections
6.  It's Communism, Not Critical Race Theory
It is hard to believe, but Joe Biden may not even be America's most accomplished plagiarist. The "antiracist" radicals can stake a claim, given their own renown and remuneration and their ruination of others.
By plagiarizing the tenets of communist China's Cultural Revolution, the anti-racist grifters have turned white progressives' self-loathing masochism into a veritable pinata of perks, power, profit, and tenured sinecures in the bowels of academia and corporations.
Consider this excerpt from the 1966 People's Daily op-ed by Chen Boda, "Sweep Away All Monsters and Demons" that kicked off the carnage of Mao Zedong's Cultural Revolution:
https://amgreatness.com/2021/03/12/its-communist-not-critical-race-theory-folks/
7.  America First Legal Pursuing Lawsuit Against Critical Race Theory: Stephen Miller
America First Legal (AFL) is seeking to pursue a lawsuit to stop critical race theory (CRT) training, according to Stephen Miller, a former adviser to then-President Donald Trump.
"We're also looking for plaintiffs—if we can find them—who are willing to stand up and file suit on critical race theory," he said during an interview with Fox News.
Miller encouraged federal workers who have been compelled to participate in CRT training to join the effort.
https://www.theepochtimes.com/america-first-legal-pursuing-lawsuit-against-critical-race-theory-stephen-miller_3798763.html?utm_source=pushengage
COVID
8.  The Tragedy of "Irreversible Neurological Damages with Distance Learning"
What do you mean?
Colleagues in different parts of the world have published many works showing how the "online brain," that is, the brain that stays online for a long time, suffers organic damage. We usually associate anatomical damage with the intake of substances. […]
However, screen exposure is no less dangerous. The lockdowns have forced children into online addiction. Distance learning keeps them glued to the screen for several hours. Social media then keeps children in touch with friends they cannot visit. Afterward, they watch Netflix.
Can you specify the anatomical changes and their consequences?
The online brain "hits" the frontal lobe, the seat of decision-making and strategy, which becomes atrophic and loses neurons irreversibly. The thinning of the cortex means neuronal loss, and the latter means functional loss. It inhibits memories and leads to a decline in learning. All young people tested showed a loss of memory and attention span (the same applies to adults). They also suffer social psychopathologies. There is also a decrease in vocabulary, which has been frighteningly reduced to 200-300 words, corresponding to the ones they use for messaging.
Regarding the problems caused by lockdown, you spoke of a "discontinuity syndrome." What is this?
The Tragedy of "Irreversible Neurological Damage with Distance Learning"