1.We Must Arm
[…]
We look back now and wonder how the world possibly could have missed so many warning signs: Germany's withdrawal from the League of Nations in 1933 (inspired by Japan's withdrawal and the lack of consequences just seven months before). Germany's open rearmament and occupation of the Rhineland in 1936, The Austrian Anschluss in early 1938, the annexation of the Sudetenland in late 1938, the occupation of the rest of Czechoslovakia in early 1939. Who was paying attention? What were we thinking?
But if you ask yourself what we were thinking back then with respect to Germany and Japan, the answer is: Exactly what we're thinking right now with respect to Russia and China. Namely, that there are probably good reasons for their relatively minor territorial encroachments and massive military buildups, that their intentions are good, or at least understandable from their point of view, and that they've gone as far as they can ever go.
https://amgreatness.com/2021/03/30/we-must-arm/
2. How One Renegade Province in the Pacific Is Standing Up to Beijing's Pressure, Bribes, Belt-and-Road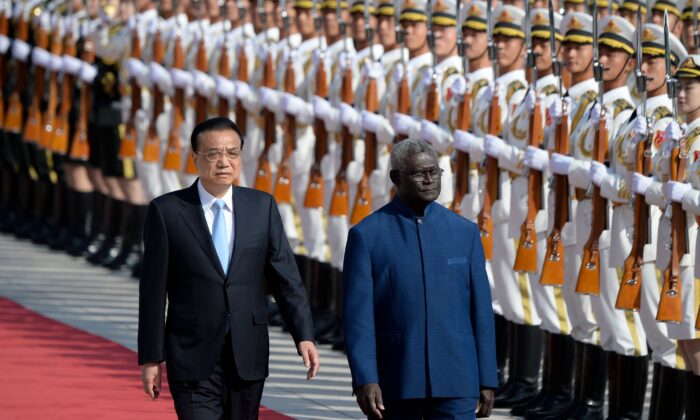 "What we have seen with the PRC's involvement in other countries in the region is that everything looks quite good at the start, but at the end of the day, the countries eventually find it difficult to handle the problems that come with dealing with China," he told The Australian.
"As far as Malaita goes, we don't want any help from the PRC as we don't want to have any constraints put on our independence," he added.
[…] "Let us remind ourselves that China or the PRC is no ordinary country like many other countries of the world. They have a global ambition to dominate the world," he told a crowd at the provincial assembly.
"For instance, China overwhelmingly targets destitute countries like Solomon Islands that cannot pay their debts and loans. China has confiscated parts or entire seaports from countries that are unable to pay their debts," he added.
https://www.theepochtimes.com/how-one-renegade-province-in-the-pacific-is-standing-up-to-beijings-pressure-bribes-belt-and-road_3762162.html?utm_source=pushengage
3. Putin's pipeline of aggression: How the Nord Stream 2 threatens the West.
It is increasingly difficult for Berlin to defend its claims that Nord Stream 2 is a purely economic project. Instead of backing out of this horrendous deal for Europe, Germany appears to be amplifying a new narrative in its favor — to complete the construction of the pipeline while conditioning its use on European Union decisions and Russian behavior.
If built, Nord Stream 2 will pose an intelligence threat to the West. There exists the risk that the infrastructure used to lay the Russian pipeline beneath the Baltic Sea may allow the Kremlin to deploy surveillance devices.
https://www.defensenews.com/opinion/commentary/2021/03/31/putins-pipeline-of-aggression-how-the-nord-stream-2-threatens-the-west/
4. UN 'Migration Networks' to Facilitate Migration Stir Concern
The United Nations role in immigration policy is growing worldwide with the establishment of a UN "Network for Migration" in dozens of countries to facilitate large migratory flows…
The UN networks, which are led by a coalition of UN agencies, exist to support the implementation of the controversial "Global Compact for Safe, Orderly and Regular Migration" (GCM) adopted by the UN and over 150 of its member states in December of 2018.
Among other goals, the global agreement aims to facilitate the expansion of what the UN describes as "regular migration," providing more legal pathways for would-be immigrants seeking to re-settle in wealthier countries such as the United States.
https://www.theepochtimes.com/un-migration-networks-to-facilitate-migration-stir-concern_3755724.html?utm_source=pushengage
5. Will the West Be Lost?
No one could have imagined we would so quickly squander the West's mighty strategic victory in the Cold War.
All the European fantasies of standing on each other's shoulders to regain the status that they enjoyed before plunging the world into the Great Wars of the last century and elevating the fiendish heresies of Marxism and Nazism, are in tatters. Somehow, and without Britain, the most politically mature and astute of all European countries, the European idea will have to await new champions and mount a second attempt to achieve a respected status in the world. As it is, Germany, which since Bismarck united it in 1871 has been the most powerful European country, now imagines that it has some vocation to dicker with China and hold some balancing role in the world. One does not have to be a pessimist to be mindful of Germany's thoroughly indifferent post-Bismarck record of behavior as an autonomous great power.
https://amgreatness.com/2021/04/01/will-the-west-be-lost/
6. The European Union: From a Single Market to a Tragic Farce
*Five hundred years from now, when historians look back on the COVID era, they will say that America's "Operation Warp Speed," under President Donald J. Trump, was a triumph of science and logistics.
 Many liberals have a short memory, but the EU has not always been the big, remote machine it has become.
* The principle of equality of states and the principle of equality of citizens cannot be reconciled in the current EU setting of institutions, says Germany's Federal Constitutional Court.
* Of course, EU institutions are dressed up with flowery language — such as "making the EU more democratic" — aimed at making people believe that EU institutions… are increasingly democratic and only waiting to become fully democratic.
* This evolution consisted, first of all, in subverting European institutions to make them accomplish, in addition to their economic aims, missions that were foreign to them, such as a "common foreign policy" that was never anything than words. How could you have a foreign policy common to the UK, Austria and Portugal?
* EU elites are weak, cowardly and pusillanimous because they know they do not represent anyone, in the true democratic sense of the word – they are not democratically elected, they are not transparent and they are not accountable to anyone. They are ultimately the playthings of governments that never agree with each other – but that do have the legitimacy of being truly democratic: elected, transparent, and accountable. There is also no mechanism for citizens to un-elect anyone, should they wish to do so.
https://www.gatestoneinstitute.org/17193/european-union-tragic-farce
7. While Europe Slept – 15 Years later
"This book, which appeared first in English, has already been translated into several other languages, but it is a special pleasure to see it published in Polish. My father's parents were both Polish…"
https://www.frontpagemag.com/fpm/2021/02/while-europe-slept-15-years-later-bruce-bawer/
8. Most elegant solutions to a clean nuclear future
This is the concluding installment of Jonathan Tennenbaum's two-part exclusive interview with Lukasz Gadowski, a prominent entrepreneur and venture capitalist who is investing big in new nuclear energy technology.
Earlier this year, Gadowski joined the board of directors of HB11 Engergy, an upstart company that according to its website seeks to generate electricity using laser-ignited non-thermal fusion. Read Part 1 of the interview here
JT: In your case you mentioned that early on you developed a passionate interest in physics. Was this because of a teacher? It often happens that way.
LG: One of my teachers was Polish society. When I grew up in Poland, the first eight years of my life, they would teach me a lot about religion, about God, that God sees everything, and god knows everything.
I tried to imagine this as a kid. What does it mean, how does it work? And then, what is the story of creation? They are very religious, and religion is basically philosophy. So, this got a great weight in my brain.
Then, when I moved to Germany, there was indeed a physics teacher Klaus-Peter Haupt. I still remember the first lesson we had with him, when he told me about light and how light is a waver and goes into the eye and triggers a process there.
This is how vision happens. Wow, that's interesting! It's different from Adam and Eve, and to just say, "Let there be light." And, so I think the religion put in the big weight, the sense of importance, and science filled it. So, religion is important, but then religion is not like a traditional church; religion is sort of like science.
Because this is the frontier of what we know. Maybe it's wrong, but from the facts we can discern, it is the best we can do.