GEOPOLITICS
1.  Biden under fire from Congress for waving sanctions on Russian gas pipeline Nord Stream 2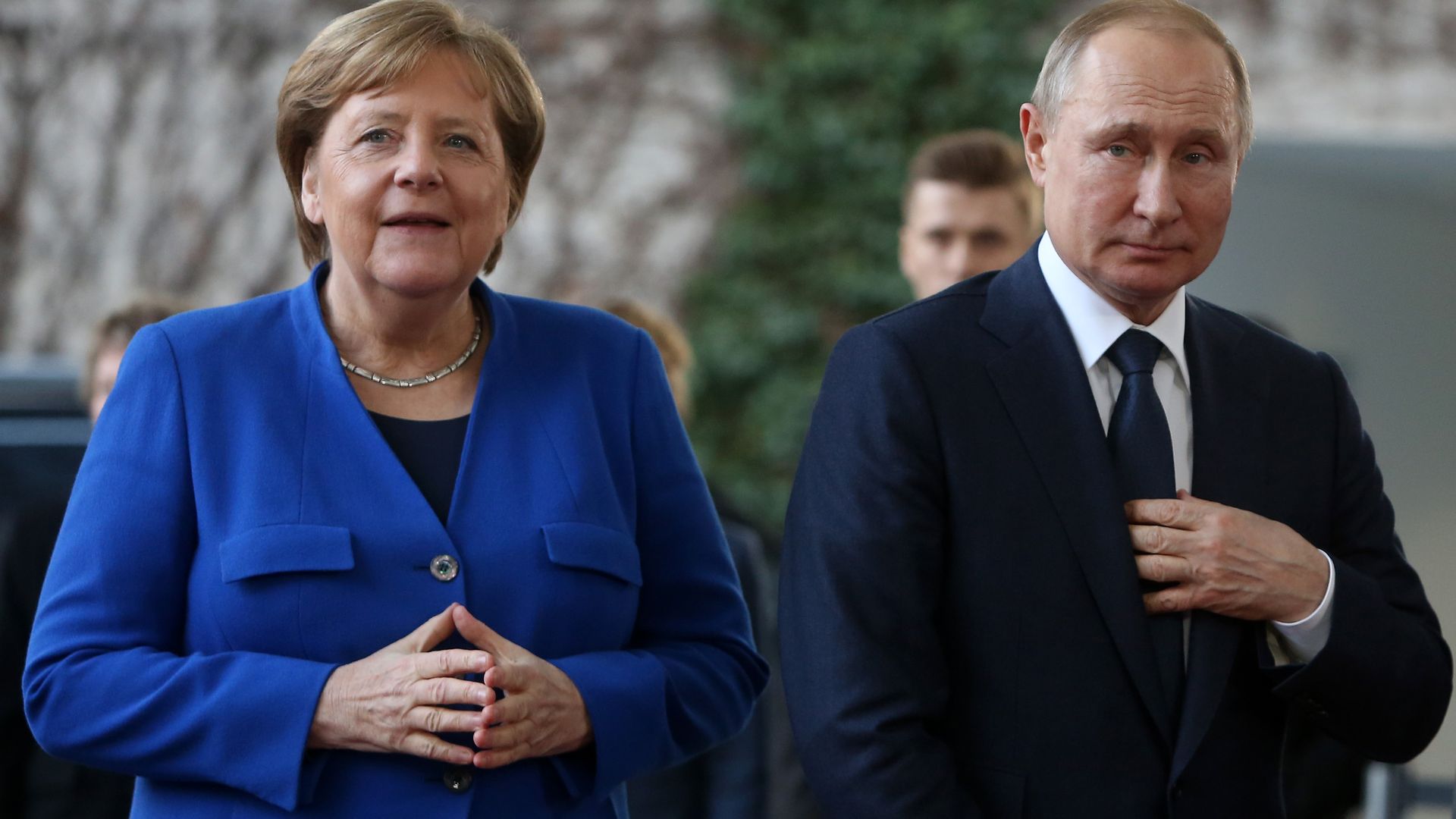 The Biden administration has decided to waive sanctions against the company overseeing the construction of Russia's Nord Stream 2 gas pipeline to Germany, despite bipartisan opposition in Congress and appeals from Eastern European governments.
Republican lawmakers immediately accused the administration of handing Russian President Vladimir Putin a major political victory. Democrats urged the White House to reconsider, and the Kremlin called the news a "positive signal."
The State Department announced the decision in a report to Congress. The move was first reported by Axios.
Secretary of State Antony Blinken opted to waive sanctions against the Russian-owned company behind the pipeline, Nord Stream 2 AG, as well as its German CEO, Matthias Warnig, and other corporate officers, because sanctions "would negatively impact U.S. relations with Germany, the EU and other European allies and partners," said the State Department report, which was obtained by NBC News.
2.  Press Briefing by Press Secretary Jen Psaki, May 20, 2021
[fragment]
Q    Well, yes.  President Biden blocked the Keystone XL pipeline here because he said it would undermine the U.S. climate leadership and undercut our ability to urge other countries to the ambitious climate action.  So how is he urging other countries to take ambitious climate action if he's letting other countries build Nord Stream 2?"
MS. PSAKI:  First, we're hardly letting any country or other countries build Nord Stream 2.  When the President took office, 95 percent of this pipeline was built.
We've continued to convey that we believe it's a bad — a bad idea, a bad plan — and we have also put in place and taken actions over the last several days to make that clear — in large part because our view is that it's a Russian geopolitical project that threatens European energy security and that of Ukraine and in the East — and Eastern Flank NATO Allies and partners.  Hence, there's a geopolitical concern about this pipeline, and we've taken steps over the last several days to make that clear.
Q    So, a lot of concerns — and it seemed like there was the ability by the U.S. government to sanction some officials to stop the project at like 95 percent, but you're not doing that.  And I'm just wondering why?
MS. PSAKI:  In what way were we — we're going to be able to stop a project in another country that's had — been built 95 percent?
Q    Or make it more difficult.  Make it more difficult with the sanctions on some of these officials involved.
MS. PSAKI:  Well, we have imposed sanctions on four Russian entities, four Russian vessels that engaged in sanctionable activities.  We've also imposed sanctions on nine vessels belonging to the Russian government.  This is the largest number of entities listed under this act to date.
So we have certainly taken significant steps, and we've also made clear — in public and private channels — our opposition to this plan.
https://www.whitehouse.gov/briefing-room/press-briefings/2021/05/20/press-briefing-by-press-secretary-jen-psaki-may-20-2021/
THE U.S.
3.  Peter Schiff Warns Tucker Carlson: The Coming Financial Crisis Is Going To Be Worse Than The Pandemic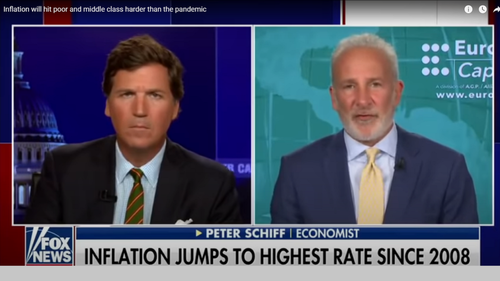 Peter Schiff appeared on Tucker Carlson's show to talk about the consequences of more printed money chasing fewer goods. Peter said inflation is going to hit the middle class harder than the pandemic.
Peter said this hot CPI print is a cause for concern and ultimately it is a tax.
[…] Peter noted that a lot of people are talking about a shortage of goods.
"The real problem is the surplus of money. Whenever you print a lot of money, it's always a goods shortage because the Federal Reserve can print all the money they want, but they don't print products to buy with the money. So, we have all this money being printed. We're not producing a lot. People are sitting at home cashing unemployment checks. This is a tax. It's an inflation tax, a Biden tax, whatever you want to call it. But when Joe Biden says 'don't worry! Only people that make over $400,000 a year are going to have to pay higher taxes to fund all these programs,' he's lying. Because every American is going to pay the inflation tax. And it's going to hit the middle class and the poor the hardest."
https://www.zerohedge.com/markets/peter-schiff-warns-tucker-carlson-coming-financial-crisis-will-be-worse-pandemic?utm_campaign=&utm_content=Zerohedge%3A+The+Durden+Dispatch&utm_medium=email&utm_source=zh_newsletter
EUROPE
4.  European Parliament votes to freeze controversial EU-China investment deal
The European Parliament has overwhelmingly voted to freeze the ratification of the EU-China investment deal due to the sanctions that Beijing has imposed on five members of the hemicycle.
In a strongly-worded resolution passed on Thursday afternoon, the Parliament also deplores what it calls the "crimes against humanity" that are taking place against the Uyghur Muslim minority in the Xinjiang region and the crackdown on the democratic opposition in Hong Kong.
The latest development represents a new blow to the EU-China Comprehensive Agreement on Investment (CAI) that European leaders reached during a video call with Chinese President Xi Jinping less than five months ago.
https://www.euronews.com/2021/05/20/european-parliament-votes-to-freeze-controversial-eu-china-investment-deal
5.  Diplomatic pressure curbs Spain's migrant crisis in Ceuta, but hundreds of minors remain in limbo
Morocco has resumed control of the border with the North African city after receiving pubic and private calls from the EU and foreign ministries across Europe
Morocco appeared on Thursday to have succumbed to pressure from Spain and the European Union over the migrant crisis in the Spanish North African city of Ceuta. After allowing thousands of people to cross into the exclave city on foot or by sea, Moroccan authorities decided once again to impose control at the border, a move that dramatically reduced the number of arrivals. Given Morocco's unpredictability, the Spanish government was unwilling today to say the crisis was over but the latest developments indicated that it had clearly subsided.
A total of 5,600 migrants, many of them residents of areas neighboring Ceuta, had already returned to Morocco by Thursday. Some were deported by Spanish authorities, and others decided to voluntarily leave, after discovering there was no work, accommodation or opportunities for them there.
https://english.elpais.com/spanish_news/2021-05-20/diplomatic-pressure-curbs-spains-migrant-crisis-in-ceuta-but-hundreds-of-minors-remain-in-limbo.html
6.  Denmark becomes first European country to tell Syrian refugees to return home and that it's safe
DENMARK has become the first European nation to tell Syrian refugees to return home after deciding that regions of the war-torn country are now safe. 
The Scandinavian nation has stripped 94 refugees of their residency permits – and claims that Damascus and its surrounding regions are no longer dangerous enough to give grounds for protection.
Migrants will be sent to deportation camps, but the government will not force them to leave.
Mattias Tesfaye, Denmark's immigration minister, said last month that the country had been "open and honest from the start" with refugees entering the country from Syria.
He said: "We have made it clear to the Syrian refugees that their residence permit is temporary.
"It can be withdrawn if protection is no longer needed."
"But when conditions in the home country improve, a former refugee should return home and re-establish a life there."https://www.thesun.co.uk/news/14212767/denmark-syrian-refugees-return-home/
BATTLE OF IDEAS
7.  The Hitler and Stalin Loving Socialist Whose Statue No One Will Touch
"Extermination must be put on a scientific basis."
While most still think of Pygmalion or My Fair Lady when they think of Shaw (if they think of him at all), his views on eugenics, socialism, and genocide were never secret […]Shaw [wrote] that, "If we desire a certain type of civilization and culture we must exterminate the sort of people who do not fit into it."
"I think it would be a good thing to make everybody come before a properly-appointed board, just as they might come before the income tax commissioner, and say every five years, or every seven years, just put them there, and say, 'Sir, or madam, now will you be kind enough to justify your existence?' If you're not producing as much as you consume or perhaps a little more, then, clearly, we cannot use the big organizations of our society for the purpose of keeping you alive, because your life does not benefit us and it can't be of very much use to yourself."
"The ungovernables, the ferocious, the conscienceless, the idiots, the self-centered myops and morons, what of them? Do not punish them. Kill, kill, kill, kill, kill them," he raved in one essay.
Aside from conventional biological eugenics, the "ungovernables" were enemies of the state.
"The essential justification for extermination," Shaw argued, "is always incorrigible social incompatibility and nothing else" in a paragraph defending Soviet purges.
[…] "I have seen all the 'terrors' and I was terribly pleased by them," he quipped after a Soviet trip.
"If this great communist experiment spreads over the whole world, we shall have a new era in history," Shaw anticipated. But he was not especially picky about which sort of totalitarian regime took over the planet as long as it was "absolute, automatic, and totalitarian."
https://www.frontpagemag.com/fpm/2021/05/hitler-and-stalin-loving-socialist-whose-statue-no-daniel-greenfield/