President Trump Releases Farewell Speech Celebrating Legacy
WASHINGTON — President Trump delivered a farewell speech to the nation via video on Tuesday afternoon celebrating his administration's achievements and vowing that the populist movement he started is "only just beginning."
The taped remarks, delivered on Trump's last full day as president ahead of Joe Biden's inauguration at noon Wednesday, celebrate American achievement and strength.
"The greatest danger we face is a loss of confidence in ourselves — a loss of confidence in our national greatness," Trump said.
"We are — and must always be — a land of hope, of light and of glory to all the world," he continued.
The commander-in-chief highlighted some of his biggest achievements, including the Abraham Accords peace deals in the Middle East and his economic legacy.
"We restored American strength at home — and American leadership abroad. We built the greatest economy in the history of the world."
"We revitalized our alliances and rallied the nations of the world to stand up to China like never before."
The president also disavowed the violent siege of the US Capitol and acknowledged that Biden will replace him as president on Wednesday.
"Now, as I prepare to hand power over to a new administration at noon on Wednesday, I want you to know that the movement we started is only just beginning."
Trump will skip the ceremonial swearing in of Biden on Wednesday and will depart the White House at 8 a.m.
The farewell address video is available here:
https://nypost.com/2021/01/19/trump-releases-farewell-speech-celebrating-legacy/?utm_medium=browser_notifications&utm_source=pushly&utm_campaign=778111
McCaul Statement on New Nord Stream 2 Sanctions  
Press release
WASHINGTON, D.C. – House Foreign Affairs Committee Lead Republican Michael McCaul released the following statement in support of new U.S. sanctions on the Russian pipe-laying ship Fortuna and the Russia-based entity KVT-RUS for their involvement in the construction of the Nord Stream 2 pipeline. In his statement, McCaul reiterates his support for taking additional necessary actions under the Countering America's Adversaries Through Sanctions Act and the Protecting European Energy Security Act, as amended, to stop the pipeline's construction.
"The Nord Stream 2 pipeline must not be completed. It will make our European allies and partners more vulnerable to the Putin regime's coercion and Russian efforts to weaponize their energy resources. As such, I welcome today's announcement of new U.S. sanctions and am prepared to support additional actions authorized by existing law to stop the construction of this dangerous pipeline."
https://gop-foreignaffairs.house.gov/press-release/mccaul-statement-on-new-nord-stream-2-sanctions/
Leaked Telegrams Show Dispute Between China and Russia Over Illegal Chinese Fishing Boat
The Epoch Times recently obtained government documents from a trusted source that reveal a conflict in 2019 between China and Russia over a Chinese fishing boat that was caught illegally fishing in Russian waters.
[…]
While the two governments have grown increasingly close, tensions remain.
Much of the resentment Russians have toward the Chinese stems from the environmental destruction caused by Chinese factories, which Russian locals say exploits their country's abundant natural resources.
https://www.theepochtimes.com/leaked-telegrams-show-dispute-between-china-and-russia-over-illegal-chinese-fishing-boat_3661569.html?utm_source=pushengage
Hungary Mulls Sanctions Against Social Media Giants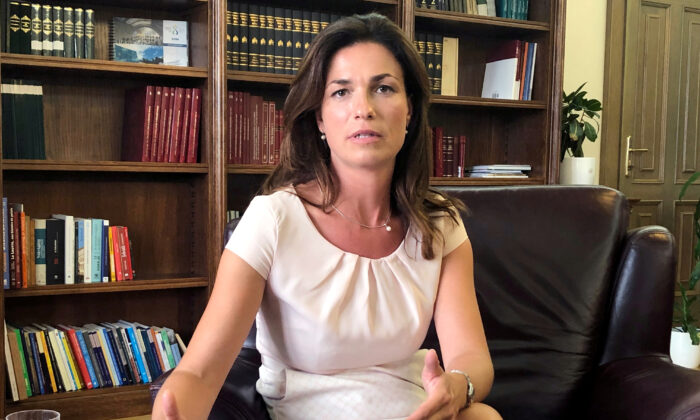 BUDAPEST—Hungarian Justice Minister Judit Varga on Monday raised the prospect of sanctioning social media firms over what she called "systematic abuses" of free speech.
The minister said she would meet the Hungarian competition watchdog this week to discuss possible penalties for what she described as unfair commercial practices as well as convening a meeting of the country's digital freedom committee.
In a growing wave of criticism, some government officials are complaining about what they have described as efforts by social media companies, including Facebook, to limit conservative views on their platforms.
Prime Minister Viktor Orban's allies control large parts of the private media, allowing his agenda to be aired prominently.
https://www.theepochtimes.com/hungary-mulls-sanctions-against-social-media-giants_3662463.html?utm_source=pushengage
We recommend  the following article regarding the same issue in Poland: http://poloniainstitute.net/current-events/5606/