EUROPE
'It's a horse, not a cow' – Bizarre media 'fact check' on reports of bestiality, child porn on migrants' phones
Liberal media outlets issued bizarre "fact-checks" after the Polish government revealed migrants have videos of executions and illegal sex acts on their phones, objecting that a bestiality video featured a mare rather than a cow as originally reported, for example.
Poland declared a state of emergency on its border with Belarus, the former Soviet Socialist Republic governed by Alexander Lukashenko, after the quasi-Stalinist regime in Minsk began pushing migrants from Africa, the Middle East, and South Asia into the country and the neighbouring EU member-state of Lithuania earlier this year.
https://www.breitbart.com/politics/2021/09/30/its-not-cow-its-horse-bizarre-fact-check-after-polish-govt-reveals-bestiality-child-porn-migrants-phones/
Orban Foe Who'd Break the Law to Raze His Regime Leads Primaries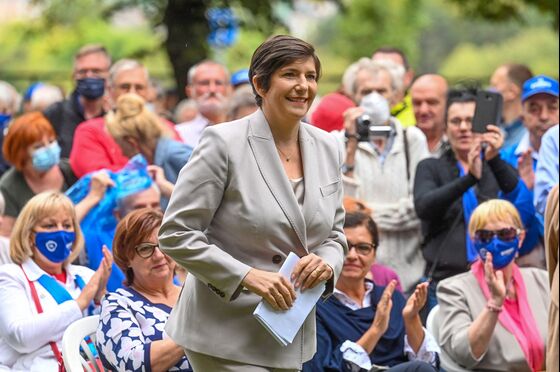 (Bloomberg) — A woman who has vowed to annul Hungary's controversial constitution was on track to score an upset victory in the first round of an opposition primary that will decide who will challenge Viktor Orban in the tightest general election in more than a decade. Klara Dobrev, 49, a vice president of the European Parliament and the only woman running for the nomination, had 34% of the vote
The eventual winner will lead the main opposition parties, which have united for the first time in a general election to confront Orban. Opinion polls show them neck and neck with Orban's Fidesz party ahead of elections likely to take place in April. Polls aside, whoever emerges from the primary will face an uphill battle against Orban, who during his 11-years of uninterrupted rule overhauled the
https://www.bloombergquint.com/politics/orban-foe-who-d-break-the-law-to-raze-his-regime-leads-primaries
Russia's new pipeline bypasses Ukraine in pumping gas to Europe, Kyiv says
The Russian gas company Gazprom has stopped transiting gas to Hungary via Ukraine, according to Kyiv.
Ukrainian industry officials claim that gas is now bypassing the country to Budapest through a Black Sea pipeline.
A new contract was agreed by Hungary and Russia this week to transport 4.5 billion cubic metres of natural gas for 15 years, starting on Friday.
But the deal has angered Kyiv as Ukraine will lose its status as the main transit country for Russian natural gas to the European Union, as well as billions of euros in revenue.
https://www.euronews.com/2021/10/01/russia-s-new-pipeline-bypasses-ukraine-in-pumping-gas-to-europe-kyiv-says
Slovenia's Constitutional Court blocks plan to make vaccination mandatory
The Slovenian Constitutional Court has blocked a government plan to make coronavirus vaccines mandatory for public employees, just hours before it was due to come into force on Friday.
The government had planned to require around 31,000 people including civil servants, policemen, and soldiers to either be vaccinated or to have recovered from COVID-19 in order to continue working.
https://www.euronews.com/2021/10/01/covid-19-round-up-portugal-ends-covid-restrictions-as-mandatory-jabs-blocked-in-slovenia
Toning down the violence, Italy's mafia has set its sights on EU cash
In the last few years, Italy's organized crime groups have become more business-oriented, helping cash-strapped companies to infiltrate the legal economy and make more money.
With Italy getting the largest share of the bloc's post-pandemic grants and loans, mafia-type organisations are starting to eye EU funds.
The director of the Anti-mafia Investigation Directorate, Maurizio Vallone, says the Italian mafia has changed a lot.
"There are less murders or shootings than there used to be in the past, less spreading of blood and much more infiltration in the legal economy," he told Euronews.
"We are talking about public tenders, entrepreneurship, and even in the public administration sector."
https://www.euronews.com/2021/10/01/toning-down-the-violence-italy-s-mafia-has-set-its-sights-on-eu-cash
GLOBAL ISSUES
Another Tempestuous Balkan Pot is Boiling
As relations between major geopolitical players steadily deteriorate the Balkans are acquiring increasing importance for NATO powers for exactly the same reasons that they were essential to Nazi Germany in the early forties…
As elections approach, the political atmosphere in the Republika Srpska, Russia's tiny Balkan ally, is heating up. For at least the last ten years, color revolution turbulence has been the normal accompaniment of every electoral cycle there.
[…]
Russia cannot afford to further degrade its regional position and security interests by losing Republika Srpska, not to speak of Serbia itself. All the more so because it is not really necessary to be a rocket scientist to figure out how to keep them both firmly and beneficially in its fold
https://www.zerohedge.com/geopolitical/another-tempestuous-balkan-pot-boiling
Georgia Arrests Ex-President Saakashvili After Return From 8-Year Exile in Ukraine
On Friday the government of Georgia issued the "shock" announcement that authorities have arrested Saakashvili, though perhaps entirely expected given the ex-president's 2018 conviction in absentia stemming from accusations of abuse of office.
[…]
Often described as a "flamboyant pro-Western reformer" who ended his second term as president in 2013, he oversaw the disastrous August 2008 Russo-Georgia War, which many observers still blame on his series of blunders and initiating border aggressions while under the illusion that powerful Western allies like the US would back him. […]
One regional expert cited in Al Jazeera aptly described that "Now it seems he has put all his cards on the table and he's hoping that somehow this return will have an impact on Georgian politics – which is very fractious at the moment.
https://www.zerohedge.com/markets/georgia-arrests-ex-president-saakashvili-after-return-8-year-exile-ukraine