EUROPE
1.  British troops deployed to Polish border as tensions with Russia rise
British troops have been deployed to Poland's border with Belarus as tensions escalate over a migrant crisis.
Mariusz Blaszczak, the Polish defence minister, said that British Royal Engineers had been sent on a "reconnaissance" exercise with Nato allies amid a standoff between Minsk and Warsaw over the fate of hundreds of migrants trying to reach the European Union.
Syrian, Iraqi and Yemeni refugees have been massing on the border for days. The UN security council has accused Belarus of using migrants to destabilise the EU's eastern border.
https://www.thetimes.co.uk/article/us-fears-russia-may-seize-parts-of-ukraine-dbzdn3xf6
2.  The German daily thanks Poland. "This is one of the last lessons for Chancellor Merkel"
This is one of the last lessons for Chancellor Angela Merkel: Poland is closing its border, which is many hundreds of kilometers long, says Jan W. Schäfer in the German daily "Bild".
What is impossible for Germany is realized by Poland
It is worth noting that the owner of the German daily "Bild" is Axel Springer, which publishes in Poland, inter alia, "Newsweek Polska", Onet or "Fakt". In his column, the German journalist looked critically at the approach of the German authorities, praising Poland's actions.
"According to Merkel, what was allegedly impossible for us in 2015, our neighbors successfully implement in a short time. In this way, Poland impressively opposes the perfidious game with refugees. And it shows a red card to the despots in Minsk and Moscow," emphasized Schäfer.
According to the German journalist, EU member states should oppose the blackmail from the east.
"That is! The states of the Union cannot allow themselves to be blackmailed by Putin and Lukashenka. They must also prevent the uncontrolled entry of refugees. Poland is doing just that," he wrote.
The Polish government deserves recognition
Schäfer appreciated the actions of the Polish authorities.
"The government in Warsaw also shows that it has learned from the 2015 refugee crisis. And in this way, it helps the entire EU – including Germany. The Polish government deserves recognition for its course. No malice and criticism. Thank you, Poland!" he summed up.
3.  Belarusian Soldiers Damaging Poland's Anti-Migrant Fence, Attacking Border Guards with Lasers, Tear Gas, Strobes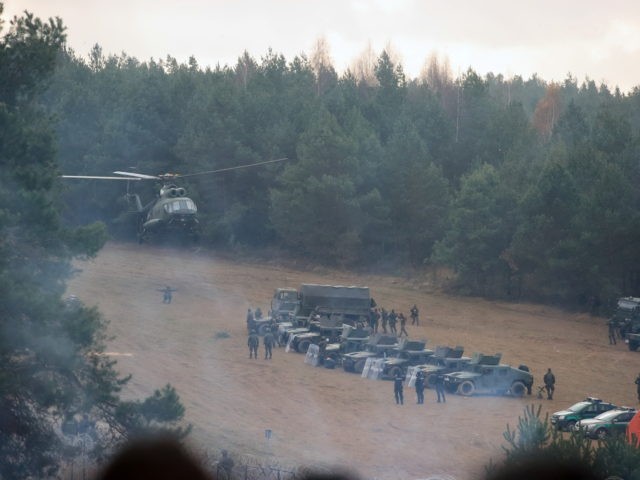 Poland has released footage of Belarusian forces targeting border guards with lasers and strobe lights, and accused them of trying to destroy anti-migrant fencing and arming migrants with tear gas.
"Belarusian soldiers tried to destroy a Polish border fence last night," the Chancellery of the Prime Minister of Poland, Mateusz Morawiecki, alleged in a statement shared to social media.
"Our servicemen were blinded by laser beams and strobe lights as well as tear gas were used [sic] against [the] Polish Border Guard," the statement added.
The Chancellery shared a video published by the Border Guard (Straż Graniczna) showing individuals seemingly on the Belarusian side of the frontier in military fatigues targeting Polish personnel with green lasers and flashing strobes after sunset.
"[The Belarusians] were tearing out fence posts and tearing up concertina [wire] with a service vehicle," the Guard said of the incident.
https://www.breitbart.com/europe/2021/11/13/belarusian-soldiers-damaging-polands-anti-migrant-fence-attacking-border-guards-with-lasers-tear-gas-strobes/
4.  Belarus threatens to choke off EU gas supply over border dispute
The bloc has accused Russian-backed President Alexander Lukashenko of weaponizing the thousands of people currently gathered in freezing camps at the border with Poland to undermine EU security and distract from domestic political pressures, an allegation Belarus denies.
With the EU reportedly preparing a fresh round of sanctions, Lukashenko said in an emergency cabinet meeting on Thursday that the country could cut off deliveries along the Yamal-Europe pipeline from Russia, mounting further pressure on European leaders as the continent remains afflicted by the international energy crisis.
"We heat Europe, and they are still threatening us that they'll shut the borders," the strongman leader, who h
https://www.cnbc.com/2021/11/12/belarus-threatens-to-choke-off-eu-gas-supply-over-border-dispute.html
5.  Poland Belarus border crisis explained [Video]
GLOBAL ISSUES
6.  The COVID Blitzkrieg: Can our liberties be restored?
[…]
That gap was a wildly and deliberately exaggerated health crisis. A disease that has a low mortality rate for young and healthy people was used as a pretext for draconian denials of rights that not too long before had been considered inalienable. A swift expansion of government power into areas totally outside of its legitimate mandate followed. The rule of law was replaced by the arbitrary decrees of highly dubious "experts" and power-hungry politicians, and traditional legislative processes were abandoned in favor of irrational and socially destructive lockdowns and mandates.