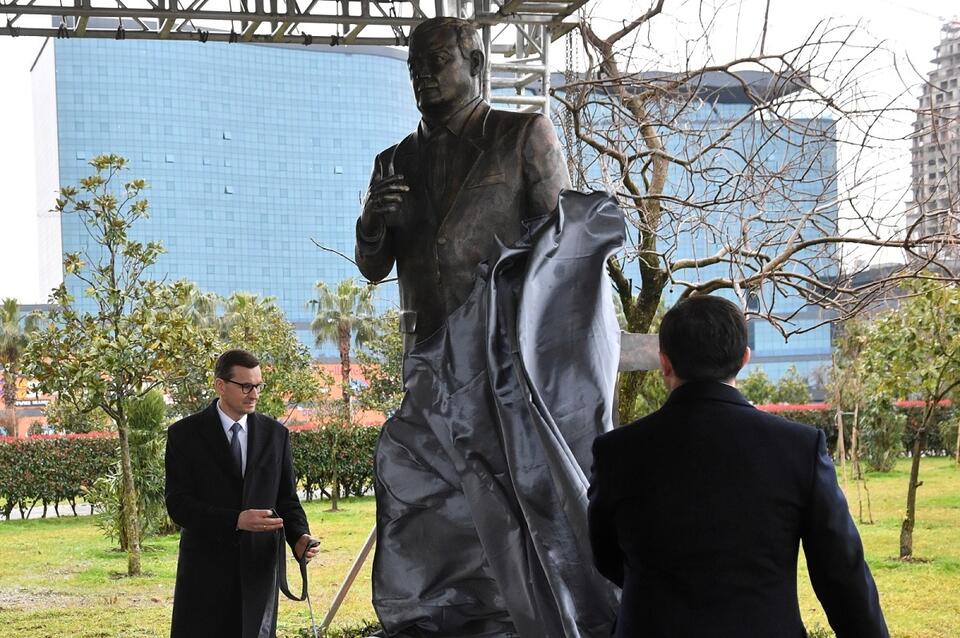 On Thursday in Batumi, the prime ministers of Poland, Mateusz Morawiecki and Georgia, Irkali Garibashvili, unveiled a monument to President Lech Kaczyński. They both recalled the role that the then president of Poland played during his 2008 visit to Georgia.
Unveiling of the monument to Lech Kaczyński
A monument to Lech Kaczyński was erected on the Lech and Maria Kaczyński Boulevard in Batumi. The plaque commemorating the former president recalls August 12, 2008, the fifth day of the Russo-Georgian war, when the then Polish president, Lech Kaczyński, flew to Georgia, which was attacked by the Russians, to show solidarity.
In his speech, Prime Minister Morawiecki emphasized that each community must be based on specific values and look for a particular basis.
"President Lech Kaczyński knew perfectly well that such a basis is primarily European, a Christian culture, a culture based on kindness towards man, the search for truth, based on the Greek school of thought, Roman law, and the entire Christian tradition,"  said Prime Minister Morawiecki.
He later added that Lech Kaczyński knew that such a culture and civilization must be based on a certain commonality of goals.
"He [Lech Kaczyński] deeply believed that free nations are destined to cooperate with each other and build a better and better world," said Morawiecki.
That is why Lech Kaczyński was so sensitive to harm, to the violation of fundamental values, and to all manifestations of international aggression.
"When he was confronted with this barbaric aggression from almost 14 years ago, with Russia's attack on Georgia, he did not hesitate to make decisions that might then have decided about Georgia's existence," said the prime minister.
"President Lech Kaczyński's warnings became 100% true"
At the same time, he thanked the Georgians for remembering the significant role played by Lech Kaczyński at that time. He recalled that on August 12, 2008, together with the presidents of Ukraine and the Baltic States, he "supported Georgia's freedom and its will to exist; through his courageous actions he led, together with the brave, proud Georgian people and other presidents, to the survival of Georgia."
"He became the enemy, perhaps number one, of the Russian Empire. But he knew perfectly well — and we know it today — those great politicians, great people, must recognize trends and phenomena around them and name them appropriately. Still, they must, above all, have the courage to make the right decisions at the right time," said Morawiecki.
The Prime Minister recalled that Lech Kaczyński was against resets, while at that time, resets were fashionable, including those with Russia.
"He wanted a friendly coexistence with Russia, but he was against naivety. He opposed any naivety, even if it went against the wisdom or political correctness of the time. In those years, Western Europe, the EU, believed that Vladimir Putin's assurances could be taken at face value," said the Polish head of state.
He also added that Lech Kaczyński's warnings were the subject of irony and mockery at the time.
"But they were — unfortunately — 100% fulfilled, and even more because the first aggression came six years later, and then others followed. And today, there has been a Copernican revolution in the EU's policy towards Russia due to this terrible aggression we are dealing with today in Ukraine. But if Europe had listened to President Lech Kaczyński at the time, we could have avoided all the tragedies that happened to Europe along the way," emphasized Morawiecki.
The Prime Minister assessed that the policy of Lech Kaczyński at that time brought about sobering up European nations and today united them around freedom.
Letter from the PiS chairman
During the ceremony, a letter from the deputy prime minister, PiS chairman Jarosław Kaczyński was read by Michał Dworczyk, the head of the Chancellery of the Prime Minister.
"I feel very honored to be able to address these few words to you on this occasion, so dear to my heart, of the ceremonial unveiling of the monument to the President of the Republic of Poland, Lech Kaczyński, in Batumi," wrote the PiS chairman.
"I am inexpressibly touched by the memory of my late brother cherished by our Georgian friends, which is expressed in such a wonderful way by the monument dedicated to him, unveiled today in the capital of the Adjara region. As best as I can, I would like to thank all the people and institutions that, in one way or another, contributed to the commemoration of President Lech Kaczyński. This beautiful gesture will always remain in my memory, and I will be forever grateful for it," Kaczynski emphasized in the letter.
He stressed that Georgia was "in the position of a strategic partner and ally" in his brother's political thought and practice.
"Lech Kaczyński was ready to risk a lot for it and to sacrifice, which he first proved in August 2008, when he organized a trip to Tbilisi of five leaders of Central and Eastern European countries, and then when he, together with the President of Lithuania, Valdas Adamkus, brought up on the international forum, matters concerning Georgia while they were being forgotten," pointed out Kaczyński.
My late brother advocated Georgia's inclusion in European and transatlantic structures. According to his most profound conviction, he proclaimed that every — even the smallest —state has the inalienable right to decide about itself, choose allies, pursues an independent policy, and be free from the dictates of even the most powerful states. He defined the relations between the subjects of international politics in terms of partnership relations, which were contrary to the view that the notion of spheres of influence determined them," wrote the PiS president.
He pointed out that "President Lech Kaczyński, with his attitude, on the one hand, continued the tradition of fraternal ties linking Georgians and Poles for centuries, and on the other, he bolstered the friendship between our nations and strengthened the foundations for its further strengthening."
"Today's ceremony of unveiling the monument to my late brother, for which I would like to thank you once again from the bottom of my heart, is a beautiful testimony that these ties are becoming stronger and stronger. Long live Polish-Georgian friendship," added Kaczyński.
Garibashvili: Lech Kaczyński was a hero
Garibashvili emphasized that President Kaczyński actively supported Georgia in its Euro-Atlantic aspirations during the ceremony.
"Thanks to this support, we are taking some steps on the way to Euro-integration," said the Georgian prime minister.
The politician recalled that in 2008 the Polish president came to Georgia, while the war with Russia was underway, to show support for the Georgian people and said then that if Europe does not support Georgia, war may happen again.
"And it did happen again" he assessed.
"President Lech Kaczyński was a hero to whom we want to show great respect. I would like to emphasize and reiterate our historical choice: we will move along the road to the European Union," said the Georgian prime minister.
On August 12, 2008, on the fifth day of the Russo-Georgian war, the then Polish president, Lech Kaczyński, flew to Georgia, which was attacked by the Russians, to show Georgians that they were not alone. That day, at a rally in Tbilisi, he made a speech that has gone down in history. He said, among other things, that "today Georgia, tomorrow Ukraine, the day after tomorrow the Baltic States, and then maybe it's time for my country, for Poland."