1.US tells  NATO allies it wants to revitalize the alliance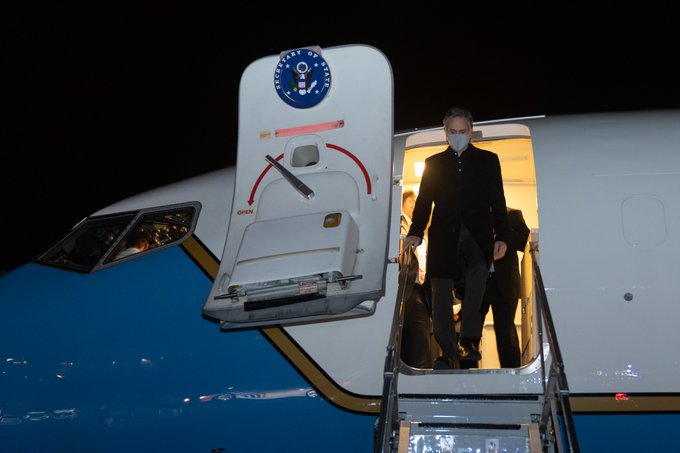 US Secretary of State Antony Blinken sought to reassure NATO allies on Tuesday for his first in-person talks with fellow foreign ministers in Brussels, after four years of tension under former President Donald Trump.
"We want to revitalise the alliance, to make sure it's as strong and effective against the threats of today as it has been in the past," Blinken told a joint news conference with NATO Secretary-General Jens Stoltenberg.
https://www.euronews.com/2021/03/23/nato-foreign-ministers-hold-first-meeting-of-post-trump-era
2. US and China trade angry words at high level Alaska talks
US and Chinese officials have exchanged sharp rebukes in the first high-level talks between the Biden administration and China, taking place in Alaska.
Chinese officials accused the US of inciting countries "to attack China", while the US said China had "arrived intent on grandstanding".
Relations between the two superpowers are at their most strained for years.
The US pledged to raise contentious issues such as Beijing's treatment of Uighur Muslims in Xinjiang.
https://www.bbc.com/news/world-us-canada-56452471
 3. US Falls Into 4 Traps Set by the CCP in US-China Talks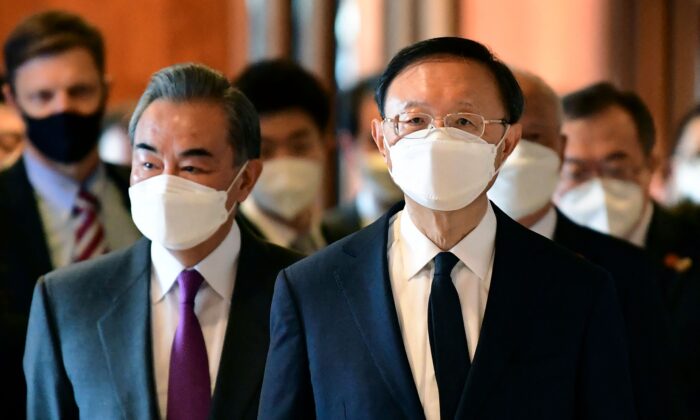 Anchorage, the largest city in Alaska, recorded a temperature as low as -18 degrees Celsius (nearly zero degrees Fahrenheit) in the early morning. A two-day high-level talk between the United States and China has just ended in this frigid place. The high pitch of the Chinese Communist Party's (CCP) "wolf warriors" howl and the weak U.S. response, in contrast, are really worrying.
In short, the U.S. side fell into four traps set ingeniously by the CCP during the talks.
https://www.theepochtimes.com/us-falls-into-4-traps-set-by-the-ccp-in-us-china-talks_3742026.html
4. "Xi Jinping Will Not Stop until He Is Stopped": A Conversation with Gordon G. Chang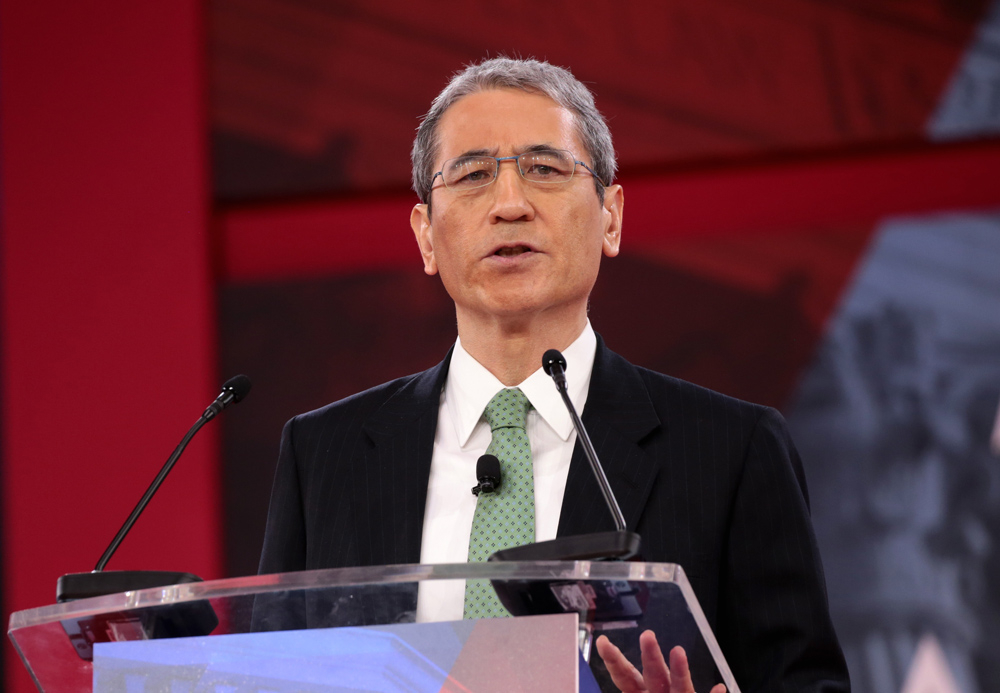 Xi Jinping now has, in President Biden, the American leader he has always wanted. Biden with his executive orders and other actions has so far given China many gifts and has asked for nothing in return. Among these unilateral concessions are his lifting a ban on Chinese electrical equipment, postponing rules against investments in China's military-linked companies, rejoining the Beijing-dominated World Health Organization, and delaying prohibitions on Chinese apps.
As a result of receiving so many free gifts from Biden, Xi seems more arrogant and is demanding even more.
https://www.gatestoneinstitute.org/17177/stop-xi-jinping
China Calling for Civilizational War Against America and the West
"Gunpowder" is one of those words Beijing uses when it wants others to know war is on its mind. The term is, more worryingly, also especially emotion-packed, a word Chinese propagandists use when they want to rile mainland Chinese audiences…. China's Communist Party, therefore, is now trying to whip up nationalist sentiment, rallying the Chinese people, perhaps readying them for war.
More fundamentally, Beijing is… trying to divide the world along racial lines and form a global anti-white coalition….
Deng Xiaoping, Mao's mostly pragmatic successor, counseled China to "hide capabilities, bide time." Xi, however, believes China's time has come in part because, he feels, America is in terminal decline.
Xi is serious. In January, he told his fast-expanding military it must be ready to fight "at any second." That month, the Party's Central Military Commission took from the civilian State Council the power to mobilize all of society for war. Militant states rarely prepare for conflict and then back down.
https://www.gatestoneinstitute.org/17196/china-civilizational-war
6.From Soft Liberalism to Iron-Fisted Leftism in Today's U.S. Military

In the Marine Corps, we don't have quotas, but we do have goals. And Marines accomplish goals," my officer-in-charge told me and a few other brand-new second lieutenants, each of us assigned to temporary recruiting duty while awaiting orders to Quantico. The captain then told us we had to sign up a certain number of college-enrolled racial minorities and females. No need to be too strict on physical fitness or academics, he said. Just bring them in.
That was in 2009. Discrimination of this sort has been an ingrained yet lamentable part of the military's recruitment, retention and promotion practices for many years. But my fellow officers and I couldn't have imagined that, 12 years later, our disagreement with these policies would get us labeled "racist," "sexist," "bigoted" or "extremists" worthy of "eradication" and "elimination" from the USMC. Yet the Sergeant Major of the Marine Corps said as much in his February 22 "core values" memo.
https://www.newsweek.com/soft-liberalism-iron-fisted-leftism-todays-us-military-opinion-1576950
Federal Judge Drops A Truth Bomb: America Press Is In The Tank For Democrats
D.C. Circuit Court Judge Laurence Silberman is making headlines for his frank assessment of the American press, specifically mentioning The New York Times and The Washington Post. He exploded on both of the news outlets, as well as including the news section of the Wall Street Journal, in a partial dissent of a libel case. His opinion reads as though this has been a long time coming and he finally snapped.
Federal judge drops a truth bomb: American press is in the tank for Democrats
8. Top NATO Scientist with Security Clearance Busted Spying for China
TALLINN, Estonia—Chinese military intelligence recruited an Estonian national working at a NATO research institution focused on maritime and submarine research, The Daily Beast has learned.
The spy, Tarmo Kõuts, renowned in the Estonian scientific community for his research, was convicted last week and sentenced to three years in prison.
https://www.yahoo.com/news/top-nato-scientist-security-clearance-073352843.html
Dr. David Gortler: The FDA under Biden – Here is how drug safety, public health issues are being compromised
Advancing state-of-the-art human tissue micro-plating research to expedite drug discovery. This technology could also eventually eliminate outdated and cruel animal testing that's currently mandated by the FDA. All Americans love their pets – and animal testing has never been all that enlightening with regard to human drug safety, despite the massive kill rate.
Clearly labeling pharmacy bottles so that each drug's country of origin is identified, giving consumers transparency and a choice about where their pharmaceuticals come from.
Returning pharmaceutical production back here to the U.S., so that it can be better monitored for safety and quality control and we can bring back high-paying jobs for pharmaceutical scientists.
Implementing outside ethics oversight at the FDA. Accountability must be a cornerstone of public service – and right now, at the FDA, when bad decisions are made, there is no accountability.
This partial list represents a mere 20% of the FDA initiatives that were ongoing during the Trump administration.
https://www.foxnews.com/opinion/fda-problems-biden-drug-public-health-compromised-dr-david-gortler
10. Could you make a genetically targeted weapon?
The report, Biotechnology, Weapons and Humanity II, warns that construction of genetic weapons "is now approaching reality". Such "genetic bombs" could contain anthrax or bubonic plague tailored to activate only when genes indicated the infected person was from a particular group.
Rather than specifically triggering the toxic effects of organisms such as anthrax, the Sunshine project warned that weapons based on a new medical technique called RNA interference could shut down vital genes. If the sequence of the target gene varies between two different populations, the technique could be used to interrupt key body functions in one population and not the other. "If as little as 10% or 20% of a target population would be affected, this would wreak havoc among enemy soldiers on a battlefield or in an enemy society as a whole," the group said.
https://www.theguardian.com/science/2004/oct/28/thisweekssciencequestions.weaponstechnology