RUSSIA-UKRAINE CRISIS
1.  Day two: Russian invasion of Ukraine
The full-scale invasion of Ukraine where Russian, Belarusian and pro-Russian separatists are jointly waging the first large-scale war in Europe since World War II, continues. Here is a comprehensive compilation of the general situation as the invasion enters its second day.
2.  NATO Activates Response Force for First Time as US Readies More Troops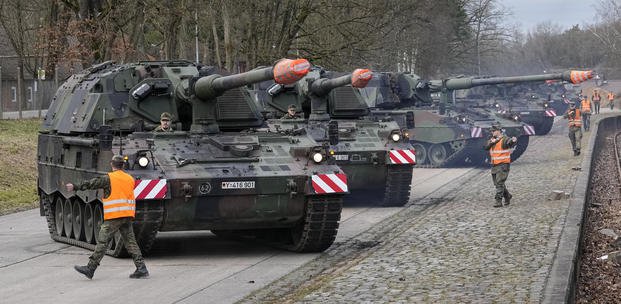 The U.S. was preparing thousands of troops who could be called upon to support NATO after the alliance on Friday activated a rapid response force in the wake of Russia's invasion of Ukraine, the Pentagon said.
The activation by President Joe Biden and leaders of member states marks the first such use of the NATO Response Force to guard alliance territory, which does not include Ukraine. But it remained unclear how many American service members could participate as the alliance was still weighing its needs.
Secretary General Jens Stoltenberg said the force would be sent to the alliance's eastern flank, which borders Ukraine and the ongoing war triggered by Russia's invasion, according to The Associated Press.
https://www.military.com/daily-news/2022/02/25/nato-activates-response-force-first-time-us-readies-more-troops.html
3.  'We are here, in Kyiv, defending Ukraine': President Zelensky posts video of himself as Russian troops advance on capital after he told EU leaders 'this may be the last time you see me alive'
Ukrainian President Volodymyr Zelensky has released a self-shot video from central Kyiv on Friday vowing to stay and defend the capital against the Russian invasion
Zelensky vowed alongside his key aides to keep fighting against Russian military assault to defend Ukraine 
Last night, Zelensky warned EU leaders that 'this might be the last time you see me alive' after the embattled president was told that Russian special forces were hunting him down to assassinate him
He said his family are second target on 'kill list' issued by Moscow for senior Ukrainian government officials 
It was claimed a squad of Chechen special forces 'hunters' has been unleashed in Ukraine to detain or kill specific Ukrainian officials 
https://www.dailymail.co.uk/news/article-10552703/We-Kyiv-defending-Ukraine-President-Zelensky-posts-video-Russian-troops-advance.html
4.  Ukraine rejects Russia's offer to negotiate
Russian Foreign Ministry says Kyiv offered to deal with matter Saturday
The Russian Foreign Ministry said Friday that Ukraine rejected its offer to negotiate.
Spokeswoman Maria Zakharova said at a news conference in Moscow said the Ukrainian side refused to start negotiations in Minsk but Kyiv offered to discuss the issue Saturday.
Kremlin spokesman Dmitry Peskov earlier said Russia is ready to send a delegation to Minsk for talks.
Russia's military intervention in Ukraine entered its second day Friday with the latest reports indicating that Russian troops were heading toward the capital, Kyiv, from several directions.
Russian President Vladimir Putin ordered the military intervention Thursday, days after recognizing two separatist-held enclaves in eastern Ukraine.
He claimed that Moscow had no plan to occupy the neighboring country but wanted to "demilitarize" and "denazify" Ukraine.
Ukrainian President Volodymyr Zelenskyy accused Russia of trying to install a puppet government and said Ukrainians will defend their country against Russian aggression.
https://www.aa.com.tr/en/europe/ukraine-rejects-russias-offer-to-negotiate/2515392
5. Russia accuses US of trying to draw Finland, Sweden into NATO
Admission of Scandinavian countries into NATO would demand retaliation from Moscow, says Russian spokeswoman
Russia on Friday accused Washington of trying to lure Finland and Sweden into NATO.
The admission of the two Scandinavian countries would have serious security consequences for Russia that would demand reciprocal steps, Foreign Ministry spokeswoman Maria Zakharova said at a weekly press briefing in Moscow.
Singling out the US, among other countries in efforts at "drawing Finland and Sweden into the alliance," Zakharova said the intensity of Helsinki and Stockholm's interaction with NATO was not new.
All member states of the Organization for Security and Cooperation in Europe (OSCE), including Finland and Sweden, have confirmed the principle that the security of some states cannot be built at the expense of the security of other countries, she added.
"It is obvious that the admission of Finland and Sweden to NATO, which is primarily … a military bloc, would have serious military and political consequences that would require retaliatory steps by our country," she said.
The spokeswoman noted that the Finnish government had been pursuing a policy of neutrality and called it "an important factor of ensuring security and stability in the north of Europe and on the continent as a whole."
She also once again stressed that Russia needed legally-binding guarantees from the US and NATO, proving that Russia would not face security risks.
https://www.aa.com.tr/en/americas/russia-accuses-us-of-trying-to-draw-finland-sweden-into-nato/2515388
6.  Russia Responds to Biden Sanctions, Claims US Citizens Will Feel 'Consequences'
In a speech on Feb. 22, President Joe Biden said he would sanction two state-owned banks, including one that services the Russian military as well as elites close to Russian President Vladimir Putin, and the country's sovereign debt. Earlier, German Chancellor Olaf Sholz said the country would suspend its agreement with Russia to use the Nord Stream 2 pipeline.
Antonov, in a social media post, said the U.S. sanctions "cannot solve a thing."
"It is hard to imagine that there is a person in Washington who expects Russia to revise its foreign policy under a threat of restrictions," he wrote. "I don't remember a single day when our country lived without any restrictions from the Western world. We have learned to work in such conditions. And not only to survive, but also to develop our state."
https://www.theepochtimes.com/russia-responds-to-biden-sanctions-claims-american-citizens-will-feel-consequences_4297017.html?utm_source=mr_recommendation&utm_medium=left_sticky
7.  Hungary's Orban Condemns Russian Invasion, supports sovereignty of Ukraine
Hungarian Prime Minister Viktor Orbán has condemned Russia's invasion of Ukraine during a national address, and said that European unity would allow for joint action in the face of the quickly escalating crisis.
"Russia attacked Ukraine with military force this morning, prompting a meeting of the National Security Cabinet. Together with our EU and NATO allies, we condemn Russia's military action," Orban said in his address, which was posted to social media. "We will hold an emergency meeting in Brussels today. I believe that European unity will be sustainable, and we can take joint action."
Hungary's Orbán condemns Russian invasion, supports sovereignty of Ukraine
8.  'An empty, rusty pipe at the bottom of the Baltic Sea': The end of Nord Stream 2?
Non-committal for weeks, Germany acted swiftly following Russia's invasion of Ukraine to announce that it was pulling the plug on the Nord Stream 2 gas pipeline.
German Chancellor Olaf Scholz said on February 22 that his government had taken steps to halt the approval process for the Nord Stream 2 gas pipeline from Russia following its invasion of Ukraine.
Speaking to reporters in Berlin, Scholz said he had asked Germany's economy ministry "to withdraw the report on security of supply with our federal networks agency", calling this "the first step to make sure the pipeline cannot be certified at this point".
"Without certification the Nord Stream 2 can't operate," he added. "We will reassess the situation that has evolved over the past few days. It's important to launch new sanctions now to prevent an escalation and a disaster."
'An empty, rusty pipe at the bottom of the Baltic Sea': The end of Nord Stream 2?
9.  Washington's Policy Failure in Ukraine
(Commentary)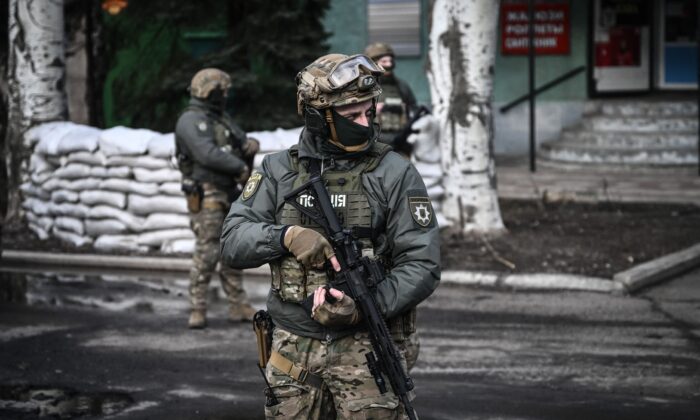 he Biden administration seems to have thought it could scare the Russians away from Ukraine, so it refused on principle to negotiate. The Russians weren't scared off, and we and our allies (not to mention the Ukrainians) are without much of a policy. In fact, the White House has failed to execute both a strategic and tactical policy to deal with the Ukraine problem, and Russia in particular.
First, a superpower shouldn't make threats if it can't back them up. The United States and NATO—which don't agree on very much—do agree that no one will use military force to defend Ukraine. That means all the threats are economic and political.
This is necessary, because America's ability to defend Eastern Europe militarily is, to say the least, questionable. We have few ground forces, no in-depth defenses against Russian missiles and rockets, and little assurance that NATO can fight even if it chooses to. The expansion of NATO in the 1990s came when most of our allies had disarmed as part of the "peace dividend" after the collapse of the Soviet Union.
https://www.theepochtimes.com/washingtons-policy-failure-in-ukraine_4298114.html
10.  How the Russia-Ukraine Crisis Is Turning Poland Into a Strategic Player
Warsaw is set to become the linchpin of the West's efforts to project power in Eastern Europe
How the Russia-Ukraine Crisis Is Turning Poland Into a Strategic Player
POLITICAL CONCEPTS
11.  Poland Against the Progressives
The continent's most resolute defender of sovereignty.
[…]
The populist government of Poland has replaced the United Kingdom as the continent's most powerful defender of local sovereignty—its own and others'. In Brussels the unelected European Commission is actively constructing tools to discipline Poland over questions of climate change, gay rights, abortion, immigration, and the press. In most E.U. countries, judges and lawyers are sympathetic to Brussels, and reliably overturn democratic decisions that cut against E.U. rules. Since its second stint in power began half a decade ago, Poland's populist Law and Justice party (PiS) has tried to prevent this. It has reformed the way courts are staffed and run. Poland's liberal opposition Civic Platform (P.O.) has sought to block those reforms, and Brussels has taken the side of the P.O. The struggle could portend a much stronger hand for Brussels or an eventual Polish exit from the European Union.
https://claremontreviewofbooks.com/poland-against-the-progressives/